Wednesday Reflection: January 18, 2023
January 18, 2023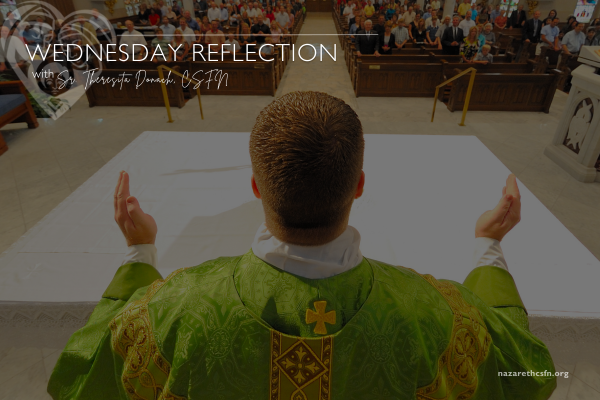 Dear Friends,
By now, I am sure that most of us have used Alexa or Google to answer a question once or twice. Well, I was going to search Webster to see the definition of the word 'ordinary', but decided to give Alexa a try since I was eating lunch by myself, and she was available. If you want to have some fun, ask Alexa for the definition of ordinary. She will not only tell you the first definition that is an adjective, but 17 other definitions if you ask her to continue! Google was a little tougher – you really need to ask and answer the right questions to get all the definitions.
A long introduction for the simple word ordinary. But why ordinary? Because we have closed our Christmas season and in the Church calendar, we are now into Ordinary Time until Lent.
So what does that mean? The Church teaches that Ordinary Time is that time that comes between our celebrating times (Christmas, Easter, and Pentecost) and our fasting times (Advent and Lent). The usual readings after Christmas season are either that of John the Baptist acknowledging Jesus as the Lamb of God, or Jesus' first miracle the transformation of water into wine at the wedding at Cana.
Think about it, during Ordinary Time, the Church reminds us that God walks among us and is constantly transforming our lives. Honestly, I don't think there is anything ordinary about that!
The United States Conference of Catholic Bishops (USCCB) states that "the Sundays and weeks of Ordinary Time… take us through the life of Christ. This is the time of Conversion. This is living the life of Christ. Ordinary Time is a time for growth and maturation, a time which the mystery of Christ is called to penetrate ever more deeply into history until all things are finally caught up in Christ." Just as a point of interest: there are more weeks of Ordinary Time (33 to 34) than in Advent, Lent, Christmas, or Easter (18 to 19). That tells me we need to spend more time working on being transformed than celebrating!
With all this said, how do you plan to spend your Ordinary Time? Transformation and growth can be challenging; are you ready? 'Slow and steady wins the race' they say; the important part is staying steady. If you fail at times, don't give up, acknowledge your humanity, and stay the course knowing that God is walking among and with you during these Ordinary Times.
Till next week,
Sister Theresita