Are you looking for a Sister who served in your school, hospital, parish or other ministry?
Eight decades of religious life: Sr. Ignatius Remian of Our Mother of Perpetual Help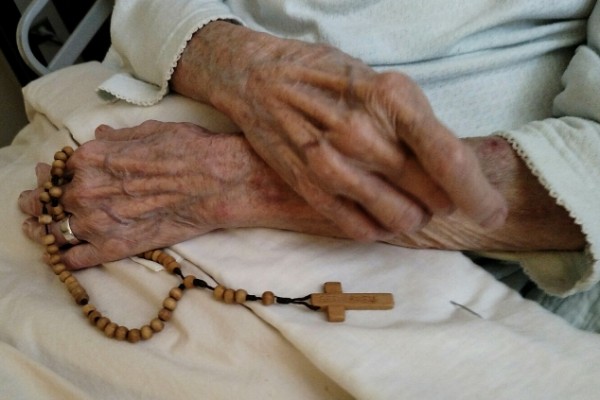 By Sr. Michele Vincent Fisher, Provincial Councilor
She'll tell you that she can no longer see, and that blindness has taken the light from her eyes, yet the light from within Sr. Ignatius Remian shines as bright as the noon-day sun. As she speaks, every word paints a thousand pictures. In quiet contemplation, she reposes on her bed, with her rosary enfolded around her weathered hands. When I enter her room to visit, I am greeted with a warm smile and an invitation to "come and sit for a while." I feel like a novice sitting at the feet of the master and I am eager to receive the wisdom that comes from a woman who has spent 80 of her 97 years as a Sister of the Holy Family of Nazareth. If you wonder how she passes her days, Sr. Ignatius will say:
"I reminisce…and I think: 'God…all these years…how fast these years went by…it's all in eternity…all in the hands of God!"
Having had a great devotion to the Blessed Mother since she was a little child, young Marie Remian was hopeful that on the day of her novitiate entrance in 1937, she would surely be given a Marian name. She still clearly remembers the words: "Nunc nomen invocabilis…Santa Ignatia" (From now on your name will be called Ignatius). "Why Ignatius?" she questioned Mother Regina. "Dear Sister, just like Saint Ignatius, your life will be 'ad majorem Dei gloriam'" (for the greater glory of God). Through the years, Sr. Ignatius reflected on her patron saint: "Before he became a saint he was a 'bad boy.' He had a strong willpower and the grace of God to give up all that he had and then to lead a life of mortification. In his suffering, he learned his mission. He learned Jesus Christ and from that moment forward, he never looked back." Clearly, Saint Ignatius and Sr. Ignatius have been great companions!
Sr. Ignatius' missionary spirit was already being fostered when her Nazareth journey led her to Albano, Italy to complete her novitiate training from 1937-39. As the world was about to enter into the Second World War, Sr. Ignatius freely and joyfully gave herself to our Lord, professing her vows of chastity, poverty and obedience.
The time for long hours of quiet prayer and contemplation that mark the period of the novitiate became a distant memory as young Sr. Ignatius stepped onto the ocean-liner that would bring her back to the U.S. and back to her native Chicago to take up residence at Saint Mary of Nazareth Hospital. As the hospital was growing, more sisters were needed for ministry which necessitated training and education. Sr. Ignatius recalls the grueling schedule that called for early morning rising for community prayer, morning classes at De Paul University followed by afternoon and evening shifts working in the hospital lab and x-ray departments, a quick evening meal, prayers and finally time to prepare for the next day's classes. Being a medical technologist, Sr. Ignatius was frequently awakened in the middle of the night to go back to the lab to assist with the needs of critical care patients. Emergencies know no time! Dedication and persistence paid off, and by 1946, Sr. Ignatius had earned her bachelor's degree from De Paul University, taken her Boards at Northwestern University and Mt. Sinai Hospitals and became a nationally certified medical technologist.
In 1947, just two years after her final profession, Sr. Ignatius was summoned to go to Mother Frances Hospital in Tyler, TX to temporarily fill in for a sister who needed to return to Chicago to care for her ailing mother. The provincial superior told her: "Take enough clothes for about four months." With her one suitcase in hand, she dutifully boarded the train. Being concerned about their little sister, big brothers Edmund and Arthur handed money to the conductor and said: "Make sure our sister gets something to eat and a cup of coffee!"
Four months turned into fifteen years and a tour of duty that included ministry at Mother Frances Hospital, Tyler, TX; Holy Cross Hospital, Taos, NM; Bethania Hospital, Wichita Falls, TX; and, St. Joseph Hospital, Clayton, NM. Sr. Ignatius not only ministered in the hospital laboratories and served as a staff supervisor but also engaged in critical research and was a part of the Board of Medical Technologists for the State of New Mexico, working with various pharmaceutical companies to enhance patient treatment.
The demands of ministry and community life caught up with Sr. Ignatius, and in 1952, she found herself a patient at Loretto Hospital in Dalhart, TX with a diagnosis of tuberculosis. Encouraged to recuperate in a dry, warm environment, Sr. Ignatius spent the next two years undergoing rigorous treatments and re-gaining her strength at a sanatorium in Albuquerque, NM. Like her patron, Saint Ignatius, the time of her infirmity was a time of spiritual re-awakening and personal transformation that reminded her of the value and transformative power of suffering.
Strengthened by the Spirit, Sr. Ignatius returned to hospital ministry in New Mexico and Texas and in 1962, when her own mother was suffering from ill health, she finally re-boarded that long-awaited train to Chicago. Sr. Ignatius returned to St. Mary of Nazareth Hospital and was privileged to have the opportunity to be part of building the new hospital location in the early 1970's. Using her years of expertise and experience in the lab, her input was sought when designing the model for the new laboratory space. In addition, she went from supervising a staff of twenty to shepherding a staff of eighty-nine.
After twenty-four years of faithful service at Saint Mary of Nazareth Hospital and already in her fiftieth year of religious life, Sister Ignatius returned to Des Plaines, IL to become the local superior for the community of sisters who lived and served at Holy Family Medical Center. As things in her life began to shift, she still had a desire to minister in healthcare and served for the following thirteen years as a surgery liaison, finally retiring to Nazarethville in 2006 at the age of 87.
Now, Sr. Ignatius spends her days in prayer. She points to the spot on her shelf occupied by a lovely statue of the Blessed Virgin given to her by her mother for her tenth birthday and tells me that Mary is truly our companion on the journey. Sr. Ignatius is peaceful, and when she looks back over her life, she says with a smile: "Forgive me, Lord…I was kind of young and I wasn't too smart yet!"
Yes, this is what 80 years in religious life looks like! In Sr. Ignatius' own words: "I offer these 80 years, all through the heart and hands of Jesus, Blessed Mother and Saint Joseph, to You, Heavenly Father, for your blessing and for your greater glory and honor and for my sanctification and salvation."