To share messages of remembrance about a recently deceased sister please visit our Message of Remembrance page.
To make a donation in memory of one of our sisters, click HERE.
Are you looking for a Sister who served in your school, hospital, parish or other ministry?
Please complete our Find A Sister form.
Sr. Regina Jaszwinski (1930 - 2020)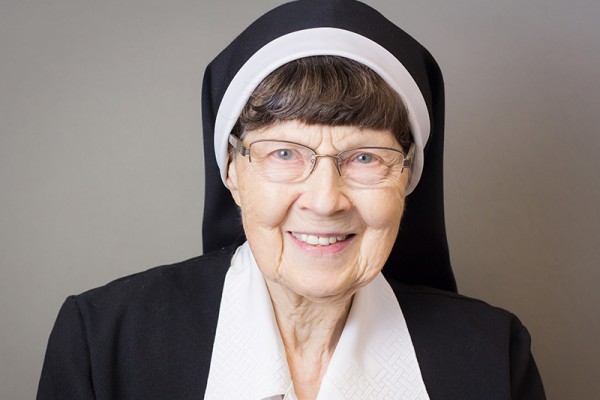 January 13, 1930 – May 17, 2020
Sr. Regina had a great devotion to Jesus in the Blessed Sacrament and to Our Lady. She was a fervent and steadfast pray-er for vocations. Pleasant, cheerful, optimistic, and genuinely grateful, Sr. Regina was alert to the needs of others and devoted to helping as she could.
Born in Chicago on January 13, 1930, she was the third of three children born to Joseph and Anna (Cheslar) Jaszwinski. Sadly, her two older brothers did not survive infancy. She was baptized at St. Adalbert Church and given the name of Helen. Sadness continued to surround this young family. Helen was only six years old when her mother passed away. In her elementary school years, her father lost his eyesight while trying to save a coworker from a burning building and, later, became unable to care for himself and was placed in a nursing home. Helen went to live with an aunt and uncle.
She attended St. Adalbert Elementary School and St. Mary High School in Chicago where she thought about becoming a BVM Sister, hoping to care for lepers. When she went to her pastor for a recommendation, he said, "No, you are not going to care for lepers. Go next door to the convent, ring the doorbell and tell the Sisters you want to enter the convent." The Sisters told her to come back when she finished high school, which she did.
Helen entered the Sisters of the Holy Family of Nazareth in August 1948. She began her novitiate a year later and was given the name of Regina. She taught for a year at St. Hyacinth School in Chicago. The following year she was sent to Rome to study at the Regina Mundi Institute, during which time she also prepared for and professed final vows. Upon her return from Rome she was the Director of Sisters in Temporary Vows briefly before moving on to teaching at St. Ladislaus School and Immaculate Heart of Mary School, both in Chicago.
In 1968, Sister Regina was transferred to Texas where she taught at St. Luke in Irving, TX, at St. Andrew in Fort Worth, TX and at St. Thomas Aquinas in Dallas. After six years, she returned to Chicago and taught in the primary grades at St. Hedwig, St. Patricia, Immaculate Heart of Mary, St. Emily, St. Camillus, St. Gilbert and St. Ann Schools. She retired from teaching in 2004 at the age of seventy-four and ministered at St. Mary of Nazareth Hospital Center (now AMITA Health Saints Mary and Elizabeth Medical Center) as a part-time receptionist for nine years.
In 2013, at the age of 83, she requested a transfer to Nazarethville, where she ministered to the residents, taking an interest in them, praying for and with them, and doing whatever she could to assist. She continued to be active for all 90 years of her life.
Sr. Regina passed away on May 17, 2020. The interment was private in keeping with current health and safety guidelines of the Sisters of the Holy Family of Nazareth – Holy Family Province.
If you would like to make a donation in memory of Sr. Regina, click HERE.
To share your messages of remembrance, please visit our Message of Remembrance page. A memorial Mass for Sr. Regina will be held at a future date. If you would like us to notify you of the date and time of the Memorial Mass for Sr. Regina, please email your name and contact information to info@nazarethcsfn.org.