Since 1885, when our foundress, Blessed Mary of Jesus the Good Shepherd (Frances Siedliska) arrived in Chicago to help serve the wave of immigrants from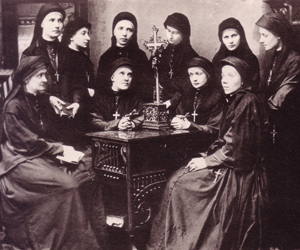 Europe, the Sisters of the Holy Family of Nazareth (CSFN) have been serving families and children in the U.S. Such service flows from our charism: to model the love within the Holy Family of Nazareth for God, for each other and for the larger community.
Today, CSFNs live out our charism through a community life of prayer and devotion to the sacraments, and through active ministering to families and children.
Our sisters minister in classrooms, healthcare institutions, parishes, prisons, social service agencies, and retreat centers. Some sisters are engaged in ministry work for our "sponsored ministries" – those institutions founded by our sisters many decades ago. All of us are serving God through our ministry to families and children.