Are you looking for a Sister who served in your school, hospital, parish or other ministry?
Destined to be a sister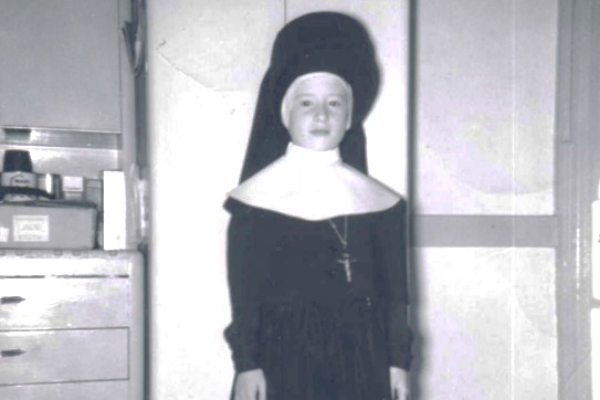 By Sr. Ann Marie Cwick
Let me begin by introducing myself and sharing with you my vocation story. I'm Sr. Ann Marie Cwick, a Sister of the Holy Family of Nazareth. Growing up in the Pilsen neighborhood of Chicago, I attended St. Adalbert Catholic grammar school where our Sisters taught. My family lived on the second floor of a two -story building, mom, dad and five kids. I was the first born followed by one sister and three brothers. There was also grandma and grandpa who lived on the first floor which was a real blessing because we had a great time with them.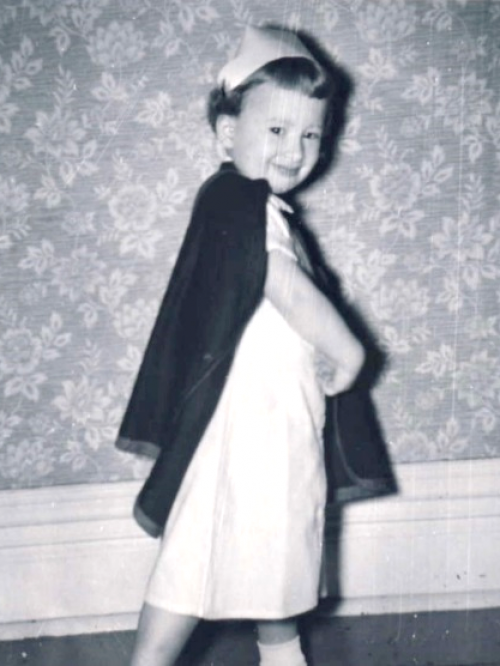 My vocation to become a religious sister was destined long before I was born. How do I know? I didn't, but my mother and grandmother did. As I was paging through my photo albums, there were two pictures that I had seen over and over again as I was growing up that immediately come to mind. The first picture was take when I was two years old. My mother had dressed me up for Halloween as a nurse with a white uniform, nurse's cap and a navy blue cape. The second picture that I came across was again from Halloween. This time I was in the second grade, and my grandmother had sewn the old habit of the Sisters of the Holy Family of Nazareth. The journey to where I am today was also because of my eighth grade teacher, Sr. Rose Marie (formerly Sr. DePaul) who recognized and encouraged me to pray and to be open to whatever God's plans were for me. As a seventh grader, the sisters invited me to help them clean in the convent, which gave me a glimpse into their life as religious women living together in community. In the eighth grade, I was asked to help Sr. Lauda with her responsibility as sacristan in our church.
After graduating from grade school, I attended Holy Family Academy on Division Street in Chicago, where our sisters were also teaching. In my sophomore year, since my mother was a nurse working at St. Mary of Nazareth Hospital, where our sisters were ministering in health care, I became a volunteer. At age 17, I got my first job as a nursing assistant, also at St. Mary's Hospital, which gave me the experience and insight I needed to eventually help me decide on a ministry as a young religious.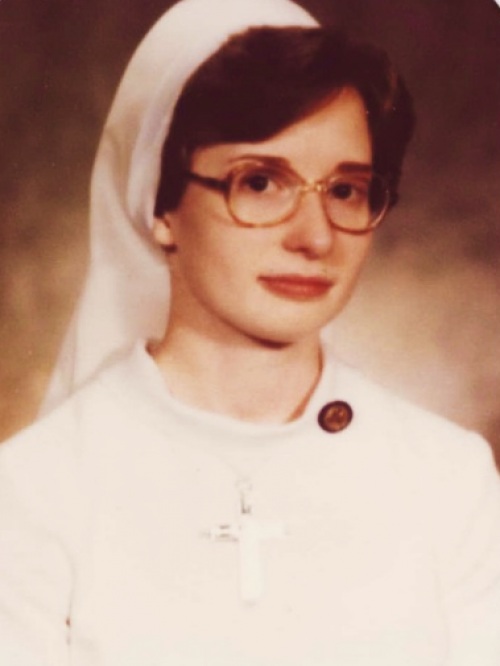 After graduating from high school, I continued to work at the hospital, but I was very busy the summer of 1973, since I had decided that God was really calling me to enter the convent. I spent every free moment getting the necessary interviews and paper work, medical and dental appointments completed, and, of course, shopping for the required "Sister's clothing" at a store which was located in downtown Chicago called Jamisons. As my departure date was getting closer, it was time to finish packing and cleaning and saying all my good-byes to family and friends.
On September 6, with the car packed, my mother drove me to the Provincial House of the Sisters of the Holy Family of Nazareth in Des Plaines, Illinois. September 8 was my official entrance date as a Postulant, which lasted one year. At the end of my two year Novitiate, I made my temporary profession of vows, which I would renew every year for the next five years. During that time, I started college and later entered the nursing program at St. Mary of Nazareth School of Nursing, which was affiliated with the hospital.
My background in nursing was in medical-surgical and oncology which I enjoyed for 34 years at St. Mary of Nazareth Hospital. But with the aging of our sisters and fewer women entering religious life, I closed our convent at the hospital and moved back to our Provincialate in Des Plaines. But God already had a new ministry waiting for me, which was to take on the role as a parish nurse at St. Cornelius in Chicago. I am still affiliated with Presence Health Care System, but this time at Presence Resurrection Medical Center. Yes, God is a God of surprises. So be ready, he may be calling you.
* * *
This vocation story was originally written by Sr. Ann Marie for publication by St. Cornelius Catholic Church in Chicago where she serves as the parish nurse. Sr. Ann Marie professed her first vows on August 21, 1976 and final vows on August 9, 1981.