Are you looking for a Sister who served in your school, hospital, parish or other ministry?
Sister Anthony shares joy and insects with her students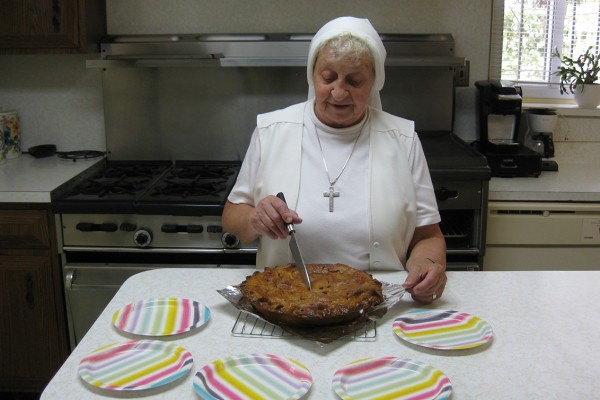 By Sr. Kathleen Stadler, CSFN
Working with children brings life and joy to Sister Anthony and this has been true all of her religious life. She finds joy in teaching them their lessons, manners and independence. She finds life in helping children develop positive attitudes, in turning around whatever negative attitudes they may have. For most of her teaching life, Sister Anthony taught first graders. Sister Anthony has said that she especially liked helping them grow up, not to be babies any more. She said that she tried to instill a positive attitude in her students and to turn around whatever negativity that they might have.
Sister Anthony was born in Burlington Flats, NY and was the second of eight girls. She was named Frances after her Mom's mother. Her Mom always wanted a little boy to be named Anthony. Now you know why we know Frances as Sister Anthony - she took the name of the son her mother never had.
Sister Anthony got around. She first taught at Nazareth Academy Grade School in Philadelphia for a few months. She remembers that the building was first a horse barn. In December of that year, she went to Derby, Connecticut to replace Sister Pius who was transferred to Australia. She taught in schools in South Hampton, Maspeth and Utica, New York and New Haven, Connecticut. In between she completed her education, taking classes at Villanova, Boston College, Fairfield University and Holy Family University and graduate studies at St. John University in New York. Sister Anthony has a certificate in biology-general science for grades 7-12. One of her favorite courses was entomology. She enjoyed learning about and sharing her knowledge of bugs with her students.
For a change of pace, Sister Anthony then served as submistress of postulants and mistress of novices in Monroe and in her spare time taught high school biology at Marian Heights.
In 1970, she began an 11-year adventure in Trujillo, Peru. Sister Anthony said that while there she cried every day, Monday through Friday, but not on Saturdays and Sundays. It seems that languages are not her strong suit although she said that she managed to get by. Though there were tears, Sister Anthony recalled that those were happy years for her. She enjoyed the people and learned a lot. She taught English as a second language and was the dean of discipline and studies at San Jose School, a grammar and high school run by Marianists of Ohio.
When Sister Anthony returned to the U.S. she taught in schools in New Haven, Connecticut and Utica, New York. In Utica, Sister Anthony was the Superior/Principal and to keep things interesting, also taught 8th grade.
Sister Anthony's next adventure took place in Monroe where she served as the provincial treasurer for 6 years. In 1998 she was transferred to teach at St. Adalbert School in Elmhurst, NY. She taught the fourth grade for one year and then taught the kindergartners until she semi-retired. Sister Anthony still lives in Sts. Peter and Paul Convent in Elmhurst and currently supervises the nursery lunch and nap time. She knits mittens for the children for Christmas.
Sister Anthony's favorite past-times are knitting, crocheting, reading, listening to music and "driving people crazy." She cooks three times a week and tries to keep her fellow sisters happy. They threaten to get a GPS for her arm so she doesn't get lost. She always has a smile on her face and a twinkle in her eyes.
After more than 65 years of religious life, the fire still burns bright in Sister Anthony's heart and her joy is infectious. She continues to bring love and life to the little ones who have been and are at the heart of her ministry.