Are you looking for a Sister who served in your school, hospital, parish or other ministry?
Sr. Ellen Zak reaches children, parents as DRE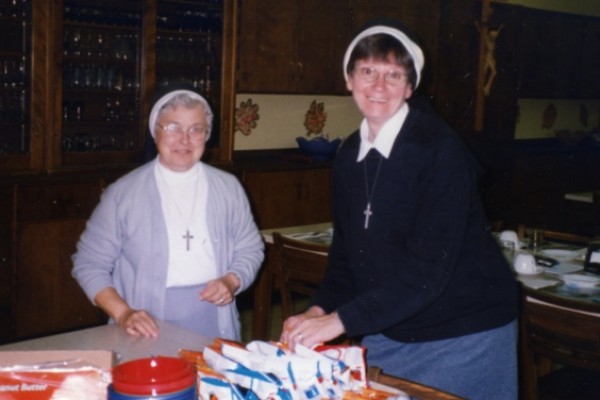 By Judith Horak, former Communications Director
When she was in 3rd grade at St. Stephen's in Paterson, NJ, Ellen Zak first entertained the thought of becoming a Sister of the Holy Family of Nazareth (CSFN). "I was taught by them, and one of the Sisters I had really impressed me. Her name was Sister Martha. I wanted to be like her."
Over the years, she went to different schools and came in contact with the School Sisters of Notre Dame and the Dominicans of Newburg. Meanwhile, thoughts of religious life had faded, then resurfaced during high school.
"But I always went back to the Sisters of the Holy Family of Nazareth and their charism of ministry to families," she says. "That's what drew me. I went to the convent at St. Stephen's and presented myself to the superior, Sister Severine. The Sisters drove me to the convent in Maspeth where the provincial, Sister Albina was having visitation and she interviewed me and accepted me as a postulant."
The road to ministry
Sr. Ellen's first ministry was in the classrooms of St. Peter Claver School in Brooklyn, where she taught grades kindergarten through fourth for six years. (For three years, the children changed classes as part of a Westinghouse pilot program, "but these children needed more structure, so we returned to a more traditional model.")
By 1978, Sr. Ellen "was already thinking that I might be more called to religious education than a regular classroom teacher, when Fr. Alfred Markiewicz, pastor of St. Isidore where our Sisters already taught, asked if any of our Sisters would be interested in serving as the DRE (director of religious education), as the present DRE was leaving. I contacted Fr. Al, and had an interview and that's how I became a DRE in Riverhead, NY." Sr. Ellen has served as a DRE on Long Island ever since.
She left St. Isidore in 1990, moving to St. Peters the Apostle as DRE through 2003, when she moved to the Church of the Good Shepherd in Holbrook, NY, where she continues to serve, managing the religious education program for students in grades 1 - 8, including sacramental preparation for Reconciliation, Communion and Confirmation. The Parish also offers a Vacation Bible School every summer.
Seeing the story of faith through the eyes of children, their parents and their catechists is always new, exciting and life-giving, Sr. Ellen says. "When you see how excited the little ones are during the Children's Liturgy of the Word, how enthusiastic they are in receiving the Word of God, and experiencing their love for God and the people of God -- that gives me joy."
The catechists, too, are a source of joy for Sr. Ellen. "They really want to pass on their faith to the younger generation in the midst of the culture today. They're very committed and convinced that this is a vocation for them."
The CSFN charism is lived out in service to children and their families that is the bread and butter of active religious education programs such as those managed by Sr. Ellen. "We try to have more family-style activities where the parent and child come together. "
For example, the first meeting for sacramental preparation always involves both parents and children. "We start out together in church, then separate so we might present information at the parents' level as well as the children's. Then, we gather together again in church. We follow that form for all our sacramental preparation sessions."
Good Shepherd also hosts a family Mardi Gras "helping prepare all of us for the Lenten season." The Parish also celebrates an instructional Mass for parents and children. "And whenever we have other celebrations, especially when there will be a Q&A with the priest, we try to have the parents there so the whole family can meet the priest outside of Mass."
Support from the community
Throughout each of her ministry assignments, Sr. Ellen has felt supported by her community of Sisters. "They are praying for this community at Good Shepherd. They realize it's difficult to reach families today, so they are very supportive of me and the people of the parish."
Sr. Ellen also finds support and grace from another role within the CSFNs -- that of formation director for sisters in temporary vows. In that ministry, she recently accompanied two sisters to Rome earlier this year to "walk in the footsteps of Mother Foundress." (Sr. Rosalyn Nguyen professes perpetual vows Oct. 15, and Sr. Maria Sophie Gerlach on November 12th.)
"It was a graced time, an opportunity for me also to reexamine how I am living the mission and charism of the Sisters of the Holy Family of Nazareth," she says.
Next year, Sr. Ellen celebrates her golden jubilee, 50 years with the CSFNs. "It's hard to believe that it's been 50 years," she says. "I can't imagine myself to doing anything other than what I'm doing as a Sister of the Holy Family of Nazareth."
[Judith Horak retired as Communications Director for the Sisters of the Holy Family of Nazareth in August. This interview was conducted prior to her retirement.]