Are you looking for a Sister who served in your school, hospital, parish or other ministry?
Prayer on the Long Island Sound: Sr. Ronald Wlodarczyk, Spiritual Director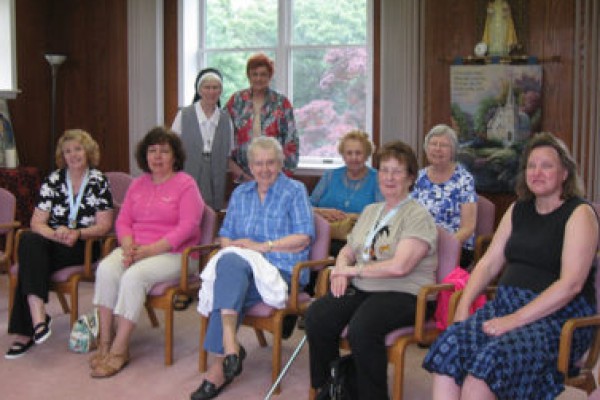 By Tammy Townsend Kise, Communications Director
There is a comfort and gentleness about Sr. Ronald Wlodarczyk, a trust and grace that instantly puts one at ease. These God-given gifts make sense for someone who ministers as a Spiritual Director and journeys with individuals as they deepen their relationship with God.
"Within each of us there is a desire for a more conscious experience of God's love and presence even in the midst of an often busy life," Sr. Ronald said. "We each have the desire to discover our true selves, to grow closer to God and to others, especially our families. Spiritual direction helps us reflect more deeply on the experiences of daily life and to realize how God's spirit is truly with us every day and everywhere." She went on to explain, "Through the journey we come to realize that God has been waiting for and desiring this closer relationship. So, spiritual direction isn't really about being 'directed' but about being encouraged to draw closer to God and to trust that God seeks us where we are and as we are."
I first met Sr. Ronald on the steps of Villa Immaculata House of Prayer in Riverhead, NY where she serves as Director. I had barely gotten out of the car, when she was there, camera in hand, asking me to pause by the pink concrete lions that grace the steps leading up from the driveway. She introduced herself after she took my picture. "I'm told that I have a good eye for photography, a hobby I hope to get into a little more," she said in a later interview. "My PowerShot camera and I have already captured some pretty beautiful and interesting sights."
Villa Immaculata, set on a high bluff overlooking the Long Island Sound, is the perfect place for Sr. Ronald to refine these photography skills. She captures images of retreatants sharing prayers and photos of wildlife around the house, including a groundhog who, during the "Evening Prayer on the Sound" program last summer, seemed to rise on cue, paws together, as if offering his own peaceful prayer. A family of groundhogs has returned this year.
Sr. Ronald's current ministry grew from her time as Formation and Novice Director for young women entering the Sisters of the Holy Family of Nazareth in the 1970s. As Formation and Novice Director, she conducted classes and provided spiritual guidance to those who were preparing to take their vows. It was around this time that Msgr. Andrew Cusak, Vicar in the Diocese of Bridgeport, CT, approached Sr. Ronald and several others, asking them to help create a training program in spiritual direction. Later, she went through the "extensive and intensive" two-year graduate program herself. And, in 1984, she completed further training, earning a Spiritual Direction Certificate from the Spiritual Life Center, New Hyde Park, NY.
Faithful listening, one of the core values of the CSFNs, is essential to being a Spiritual Director. "Being faithful to my personal journey in prayer and direction helps me to be a listening presence, staying out of the way, so to speak, so that God can do God's work," she said. When people come to Villa Immaculata for prayer, for retreat, for spiritual direction or even simply to find God in nature, they're not coming alone. Though they may arrive by themselves, they carry with them past experiences, present situations and future concerns. "What is happening or has happened in life is an important part of their relationship with God," Sr. Ronald said.
This relationship with God is something Sr. Ronald and Sr. Barbara Ann Medvesky, who also serves at the House of Prayer, want to make sure visitors carry with them when they leave Villa Immaculata. Next to the front door is a basket filled with colorful slips of paper, each with a blessing written on it.
"When guests leave, we offer them a blessing," said Sr. Ronald. "That little piece of paper is significant, something tangible to hold on to as a reminder of their time here. Some ask to take a few more to share at family gatherings. Those little prayers have gone out far and wide to so many different, interesting places."
On the sunny, soon-to-be summer day of my visit, the blessing read: "May the God of Winter be with you, walking with you as warmth and light through the dark and cold winter moments of your journey… May the blessing of winter hope be with you." Sr. Ronald told me to "stay tuned" – the gift of the blessing will come.
Just outside the front door on the concrete porch, guests who visit in the summer are greeted by another of Sr. Ronald's gifts – growing tomato plants. "We keep the plants on the porch," she explained. "Otherwise, they don't have a chance for life if the deer get to them." What's her secret to successful tomato plants? She says she gives them a good watering, prunes them and talks to them. But, after meeting Sr. Ronald, it's likely the growth also comes from listening, stepping out of the way and letting God do His work.
***
Sr. Ronald entered the Sisters of the Holy Family of Nazareth in December 1954. She earned a BA in Biology from Holy Family College (now Holy Family University) and an MA in Education from Fairfield University. For information on small group retreats, private or directed retreats or spiritual direction at Villa Immaculata House of Prayer, visit nazarethcsfn.org/ministry/sponsored-ministries/retreat-houses/. This article also appears in the Summer 2017 issue of Nazareth Connections, a publication of the CSFNs printed and mailed three times a year. If you would like to subscribe, please click here.