Are you looking for a Sister who served in your school, hospital, parish or other ministry?
Companion to the sisters at Mount Nazareth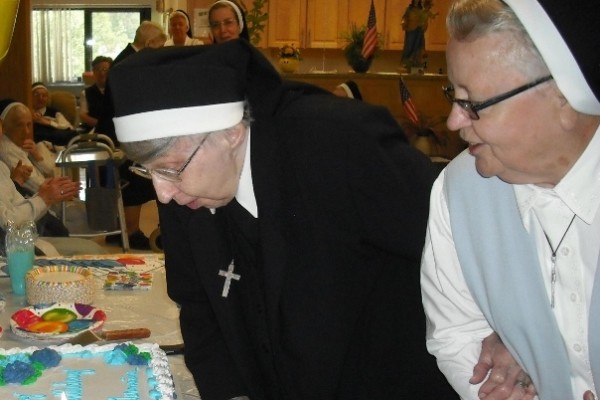 Sr. Evangeline Sullivan, Pastoral Care Coordinator, Mount Nazareth, Philadelphia
As told to Sr. Celine Warnilo
I began my new ministry here at Mount Nazareth as the Pastoral Care Coordinator for the infirmary on the second floor in August 2015. My job description states that I am to be one who companions our Sisters requiring personal care and or skilled nursing care here at Mount Nazareth. Also, I am to assist the superior of the house by coordinating the services needed and by overseeing the day to day care of this group.
Working with our "Wisdom Sisters" here at the Mount is in itself very life giving for me and, I hope, for those I care for and work with. The smiles on their faces, their expressions of sincere gratitude, faithfulness to their prayer life and attendance during our daily Eucharistic Celebration bring life to me in ways I cannot fully express. Of course there are those times, when sitting by the death bed of one our Sisters, that a part of me dies also. But I know the memories of this Sister will continue to bring life to me and others, as we recall her presence while she was here among us.
There are times when I experience the challenging thoughts of "am I doing enough for my Sisters and co-workers in their times of need or desires?" I also find it a challenge to balance the ups and downs of daily living, especially when faced with those unexpected surprises that call for my immediate attention or consultation.
Challenge, for me, is a call to prayer, to trust, to act and to own my decisions once I have made them.
I do believe that I touch families through our employees, visitors, delivery persons and over the phone when family members call for an update on a sisters' condition; also through the visiting nurses and other patients when sitting in a doctor's office with one of the sisters awaiting her turn. Touching families is an everyday experience full of surprises and wonder -- be it a smile, kind word, a happy 'hello' or 'do you need help?', holding the door, even accepting the good will of others. Surely, this world of ours would be a happier place if we all just reached out and touched another in Jesus' name, especially those closest to us.
My desire to love and serve God in and through my Sisters here at Mount Nazareth keeps me in my present ministry of service to God, to my sisters and others.
A special moment in my life was when God and Community graced me with the privilege of being with my dying Mother and finding in her agony the Suffering Christ himself who helped me to embraced my fear of death and granted me a peace that I can now embrace others with in their time of going home to Our Father. I do believe my Mothers' death was a preparation for the position I now hold.
When I look into the eyes of a suffering loved one and see God's Presence, it's a very special moment that I believe will last forever.