Are you looking for a Sister who served in your school, hospital, parish or other ministry?
Sister Teresilla Kolodziejczyk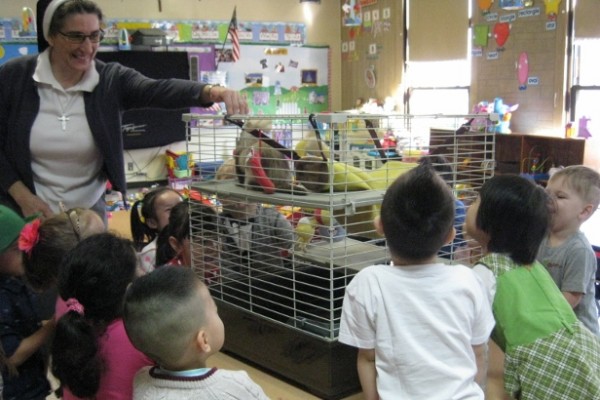 By Sr. Dorothea Jurkowski, CSFN
When the Provincial Superior in Krakow asked Sr. Teresilla Kolodziejczyk and her friend, Sr. Antonina Gadacz, to go move to and minister in the U.S., they discerned their response together in prayer. Sr. Teresilla said, "We thought of our Mother Foundress who came to America with a small group of Sisters to start Nazareth there. Wherever we go, we will find Nazareth." And so they did.

For years before she entered religious life in 1986 and before moving to the U.S. in 2004, Sr. Teresilla was involved with pre-school age children and their parents. In Poland, she was a teacher and administrator of a pre-school in Przeginia/Jerzmanowice from 1983-1986 and two pre-schools in Rzeszow from 1991-1999. Her five years of experience as a physical therapist and administrator of mentally and physically challenged children and adults in Tarnow, Poland, equipped her to assist parents and help children work towards and/or achieve their potential.

Sr. Teresilla does not recall thinking about a religious vocation during childhood or in high school. An occasional thought might enter her mind but was quickly dispelled. "However," she relates, "God was very patient and reminded me of His calling a few years later after completing high school when I visited a postulant friend in our convent in Krakow."

Jesus continued to prod Sr. Teresilla in his usual patient yet insistent manner until she finally thought, "It is the charism of the Congregation of the Sisters of the Holy Family of Nazareth that will [give] me the best opportunity to realize my vocation -- to be of more service to others, particularly to families. The Sisters in this Congregation are committed to building the Kingdom of God's Love wherever they serve and that's what I want to do." Sr. Teresilla reached families through the children in Poland; she continues to do that in here in the States.

Sister's educational and professional background make her well-suited to educate and care for the very young wherever she ministers. After earning a bachelor's degree in Early Childhood Education in Krakow, Sr. Teresilla was a catechist at a parish in Poland and then organized and taught in the pre-school. After two years, she was transferred to Rzeszow where she taught religion in grades K-4 and established Holy Family Pre-School, serving as administrator/principal for seven years. While working with children and adults who were mentally/physically challenged in a daycare center and serving as physical therapist and administrator, she completed her master's in education in Lublin Catholic University, again specializing in Early Childhood Education.

Arriving in the U.S. on Sept. 21, 2004, Sr. Teresilla was assigned to Monroe, CT, where she completed courses in English as a Second Language (ESL). Perfecting her English continues to be a challenge, but Sr. Teresilla is determined to succeed for the sake of the children. Her stay in Monroe was short-lived, much to the chagrin of the Sisters there. God called her to work with children and families in St. Adalbert School in Elmhurst, Queens, NY. She continued her studies, earning her MS in Education from St. John's University in Jamaica, Queens, NY, in 2010.

At St. Adalbert's, Sr. Teresilla served as an assistant to pre-school teachers for a year. Next, she was a teacher's aide from 2008-13. One major responsibility was to help organize activities that are both 'fun' and educational for young children. It was not unusual to find Sr. Teresilla joining children on the floor, where her instruction became more personal!

God gave Sr. Teresilla a penchant for art and all its facets. She was able to share this talent in 2011 when she began teaching art in grades K-3, a responsibility she holds to this day.

Two years later, Sr. Teresilla became responsible for her own class of three-year-olds -- a dream come true! The Nazareth charism she so cherished became visible to all, especially to parents and her students. She was a religious/spiritual educator first of all, helping make Jesus a real person in the lives of the children, someone to turn to as you would to a best friend.

As the children bonded with her, Sr. Teresilla also became close to their parents, often providing an understanding ear. Regular communication with parents in conversation and through reports and emails proved an effective way to fulfill Sr. Teresilla's approach to education: "Outside of faith in God's love, compassion, and forgiveness and living a life of active love for others, I believe a Catholic education is the greatest gift one can offer a child, and as a Nazareth Sister-teacher, I can do that."

Starting a new school year is always a daunting experience for Sr. Teresilla. However, "as the year continues," she writes, "I get great satisfaction in seeing the student's progress academically in many areas, but especially in other developmental stages in their lives. The moment a child in the upper grades sees me and asks, 'Sister, do you remember when you taught me and showed me… in nursery school?' this is the 'moment' that I feel I left some special mark on the child that will support him/her through life. This would not be possible, I know, without the grace of God."

She notes that "coming to the United States in 2004 began a new chapter in my mission to the very young through education. With faith in and fidelity to Nazareth's mission, I lift up my heart in praise of our Merciful Father, Who has entrusted to me His littlest ones."
Besides being a "school" sister, Sr. Teresilla is invaluable in the convent kitchen, and when the Sisters are planning a festive event, Sr. Teresilla is in charge of the decorations in the house or auditorium or church. As one of the 'young' Sisters in Nazareth, she brings a vitality and newness that is a joy to all.