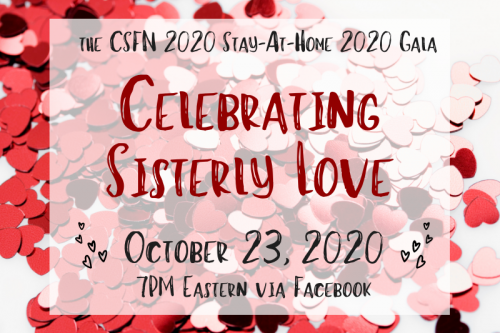 2020 CSFN Stay-at-Home Gala: Celebrate Sisterly Love The 2020 CSFN Gala is nothing like we expected from the outset. Inspired by the city of Philadelphia's temporary nickname change to "the City of Sisterly Love," we had been preparing to bring all of our dear friends together to Celebrate Sisterly Love at a gala in honor of the 135th anniversary of our CSFN Sisters arriving in the United States. Sadly, the current world climate has put a stop to these original plans.
The legacy of our Sisters and all they have been to the families of Philadelphia and beyond means far too much to all of us to let it pass without some semblance of celebration, so the decision was made to try something new, and so our first ever virtual Stay-At-Home Gala was born! We hope that you will join us for a multimedia celebration lasting approximately thirty minutes via our Facebook page. It is so important to us to bring you a glimpse of the enduring history of our Sisters.
As this gala was meant to be our largest fundraiser this year, we ask that you explore the donation options offered for this benefit, which include virtual ticket sales, Love Note ads, and sponsorships. Our goal is to raise $135,000 in honor of this most auspicious anniversary, funds that will go towards the care and well-being of our Sisters. We hope you can join us for this first ever virtual event, and we can't wait to "not see" you there!
To become a Gala Sponsor, please visit our Gala Sponsorship page. To purchase a virtual ticket, make a donation, or leave a "Love Note" for our Sisters, please visit our Gala Donation page.
You may also download a PDF of our Gala invitation.