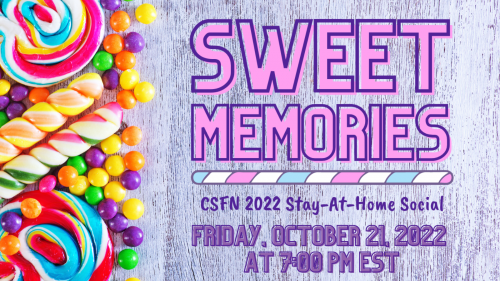 The Sisters have "Sweet Memories" to share! Come celebrate with us!
Join the Sisters in celebrating Sweet Memories on Friday, October 21, 2022 with an exclusively Stay-At-Home online event sharing memories of our wonderful friends, family, and Sisters! The program will feature the bonds our benefactors and Sisters have established over the years with one another -- how each and everyone plays a role in our Nazareth family!
We began the year with certainty that we would be hosting an in-person event with our Nazareth Family, however with COVID infections once again on the rise and new vaccine-resistant variants emerging, we felt it would best for the safety of our dear friends and Sisters to host another Stay-At-Home event. This will be our third year!
We hope that you can join us for a multimedia celebration featuring images of our Sisters throughout the year and years past, lasting for approximately thirty minutes via our Facebook page.
We're excited to share this year's theme with you, a special presentation of Sweet Memories! We know you will enjoy celebrating our shared history with all of our Sisters, their families, and all of our wonderful friends and benefactors. You, our dear Nazareth Family, remain always in our hearts and prayers, and never let us down!
As this event is meant to be our largest fundraising event for this year, we ask that you take a moment to explore the donation options offered, which include virtual ticket sales, event sponsorships, and an opportunity to share fond memories of our Sisters. Funds raised through this virtual event will go towards the care and well-being of our Sisters living throughout Philadelphia and the U.S.
We hope you will join us as we come together to celebrate Sweet Memories; we can't wait to 'not see' you there!
To become a Social Sponsor, please visit our Social Sponsorship page.
To purchase a virtual ticket or make a donation, please visit our Social Donation page.
Do you have a Sweet Memory about friendship with our Sisters that you would like to share? Send a virtual "Candygram" message to be shared during our social for all of our Sisters and Nazareth Family to see!
To share your memories, please contact Heidi Scheuer, Assistant Development Director, at 847-298-6760, ext. 238 or hscheuer@nazarethcsfn.org. Please note if you would like your message to be shared anonymously. You may also contact Heidi if would like to be added to our invitation list, are interested in becoming a sponsor, or would like to make a contribution to the event.
Invitations will be mailed in early September!