To share messages of remembrance about a recently deceased sister please visit our Message of Remembrance page.
To make a donation in memory of one of our sisters, click HERE.
Are you looking for a Sister who served in your school, hospital, parish or other ministry?
Please complete our Find A Sister form.
Sr. Hilarette Gibala (1917-2013)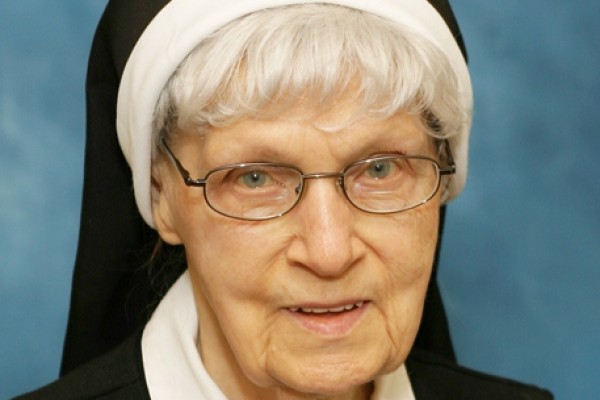 Jan. 17, 1917 - Nov. 1, 2013
Teaching children was dearest to her heart, but Sr. Hilarette Gibala responded to the CSFNs' need for qualified nursing staff for its Pennsylvania hospitals during the depression years. The long-time nurse-anesthetist spent most of her ministry life in hospital settings, with occasional forays into the classroom.
A Pittsburgh native, Helen Gibala joined the CSFNs as a postulant in 1932, entering from Holy Family Parish in Pittsburgh. After her first profession of vows in 1935, she moved to Detroit, where she taught third grade at Transfiguration School, before returning to school herself for her nursing education.
In 1941, she earned her diploma from Ohio Valley General Hospital School of Nursing in McKees Rocks, PA, and received her RN from the state of Pennsylvania. She served as a staff nurse at Ohio Valley before resuming her studies at St. Mary of Nazareth Hospital School of Anesthesia in Chicago, where she graduated in 1946.
Returning to Ohio Valley, she served three years there as a nurse-anesthetist, then served at Mercy Hospital in Altoona, PA. In 1951, she briefly taught fourth grade at St. Casimir School in Erie, PA. Returning to nursing, she returned to Ohio Valley General from 1952-62 as a nurse anesthetist and then back to Mercy Hospital.
From 1971-73, Sr. Helen was able to combine her love of children with her nursing duties, serving the youngsters at Holy Family Institute in Emsworth, PA. She returned once more to Ohio Valley General in 1973, serving there as a nurse anesthetist until 1998.
As hospital ownership changed, the sisters there were reassigned in 1985-86 — all but Sr. Hilarette. She remained, commuting from Kenmawr and remaining on call for evening and night anesthetist duties. She was loved by the patients, staff and physicians in the hospitals where she served. Her organizational skills were valued by the surgeons, and the doctors hated to see her retire.
During her first 'retirement,' Sr. Hilarette served as a receptionist at the Provincialate for the then St. Joseph Province in Pittsburgh. The sisters who lived with her were grateful every bit of home nursing she shared with them.
Her family described Sr. Hilarette as "The White Tornado." Whenever she visited, she threw herself into the family outings and family stories.