To share messages of remembrance about a recently deceased sister please visit our Message of Remembrance page.
To make a donation in memory of one of our sisters, click HERE.
Are you looking for a Sister who served in your school, hospital, parish or other ministry?
Please complete our Find A Sister form.
Sr. Jude Niemiec (1932-2013)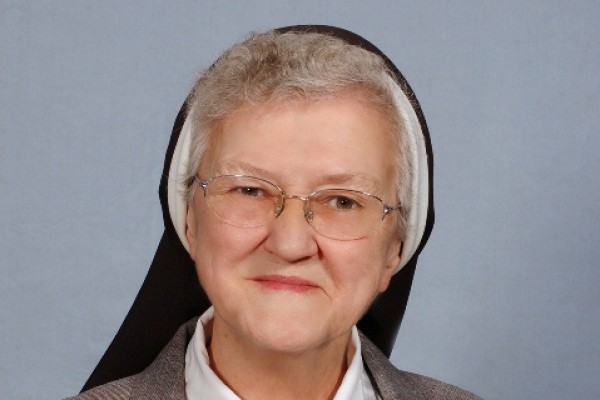 Oct. 10, 1932 - Oct. 26, 2013
The seventh child of Polish immigrants, young Dolores Niemiec grew up in New Boston, PA, in coal-mining country. The much loved 'baby' of the family, Dolores attended the only public school in New Boston, developing a love for art and color.
In fourth grade, her mother transferred her to the Catholic school, taught by nuns and with few art classes. When she was 12, her family moved to Philadelphia and Dolores found herself in class with 56 students, an overwhelming change from the quiet, small-town schools she knew.
For high school, she joined many of her friends at Nazareth Academy, where she had a great interest in dramatic productions. Freshman year, her art teacher advised her to continue art classes, but her mother had other suggestions. With a well-developed reputation as the class clown, Dolores and her classmates were all surprised when it was announced she was entering religious life. It had been the furthest thing from her mind, but she could not put the idea to rest. It created a need in her to withdraw to quiet places where she sensed deep peace and a yearning to know who God was. Her parents disapproved when Dolores became a CSFN postulant after high school graduation, but by the time she professed perpetual vows, her parents were reconciled to her vocation.
A woman of many talents, Sr. Jude never considered what ministry she would like to enter. She let God and her religious superiors make the assignments. Her first was as a seventh-grade teacher at Sts. Cyril & Methodius School in the Greenpoint section of Brooklyn, NY. She also taught at Nazareth Academy Grade School, Philadelphia, and was the director of girls aspiring to enter religious life, a six-year assignment. She also taught social studies at St. Hubert High School, Philadelphia.
She believed her next assignment as vocation director to be "one of God's jokes" because she found public speaking intimidating. God inspired her response, creating an audio slide presentation. Next, Sr. Jude completed studies towards a master's in art education from Penn State University, followed by an MFA (master's in fine arts) from Catholic University. She savored these opportunities to engage in the contemplative experience of being one with God in the moment of creation. Soon she was named chairperson of the Art Department at Holy Family University, Philadelphia.
During this time, Sr. Jude was a hospice volunteer at Presbyterian Hospital, studied practical nursing and earned her license. When she obtained a position in Hospice Home care with Holy Redeemer Hospital, she continued to teach part-time at the university for 12 years. With Sr. Xavier Kozubal, she established a House of Prayer in the province that evolved into a weekend and summer retreat program for 10 years until the property was sold. With this experience and her hospice work, Sr. Jude asked to become a presence among the poor in Philadelphia. She and Sr. Xavier lived with the Franciscan sisters who staffed a soup kitchen, thrift store and Women's Center for drug-addicted women. Sr. Jude ministered there for 15 years, retiring to Mt. Nazareth in 2011 due to declining health.