To share messages of remembrance about a recently deceased sister please visit our Message of Remembrance page.
To make a donation in memory of one of our sisters, click HERE.
Are you looking for a Sister who served in your school, hospital, parish or other ministry?
Please complete our Find A Sister form.
Sr. Aurelia Lopata (1931-2013)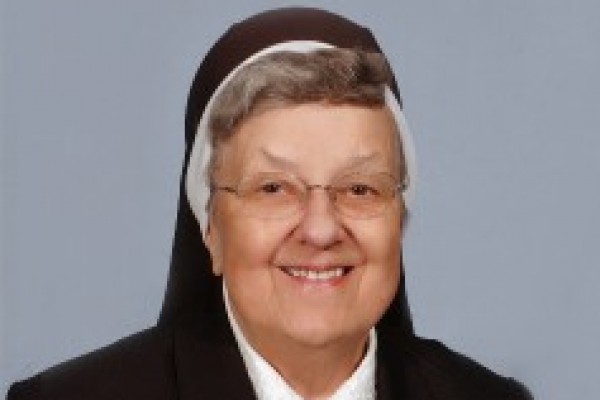 March 7, 1931--Nov. 26, 2013
A native of Bridgeport, CT, Evelyn Lopata was the sixth child of Polish immigrants Edward and Hedwig Lopata. In the midst of the Depression, as employment rates in Bridgeport plunged, Evelyn's father moved the family to Brooklyn, NY, the largest of New York City's five boroughs. The Navy Yard employed 70,000 people; pharmaceutical companies employed thousands more. The family enjoyed Brooklyn, and became active members of St. John Cantius Parish, with the children attending the parish school.
As eighth-grade graduation approached, Evelyn and her mother had many discussions about high school. Mrs. Lopata wanted Evelyn to attend Nazareth Academy in Philadelphia, while Evelyn wanted to join her friends at a local school. Eventually, Evelyn changed her mind, thinking Nazareth would be the best school for her. Attending Nazareth meant Evelyn would board, returning home only for holidays and summer vacation. It also meant financial hardship for the family, but her parents were pleased with her choice. The transition to boarding school was smooth, and Evelyn was a good student who made many friends.
As she progressed through high school, Evelyn once again felt the need to share with her mother the thoughts she was holding in her heart. She believed God was calling her to religious life, and as she respected and admired the CSFNs whom she saw daily in high school, she wanted to become a Sister of the Holy Family of Nazareth. Her parents prayed over this, supported Evelyn's decision and gave her their blessing.
In June 1949, Evelyn graduated from high school and later that month, she became a CSFN postulant. After six months, she entered the novitiate in January 1950, receiving the name Sr. M. Aurelia. In January 1952, she professed temporary vows at Immaculate Conception Chapel in Philadelphia. In January, 1958, she professed her perpetual vows.
Sr. Aurelia taught for many years; her assignments included St. Adalbert and St. Stanislaus parish schools; Little Flower High School; Nazareth Academy Grade School and Holy Family University, all in Philadelphia. She also taught at St. Mary's Villa for Children & Families in Ambler, PA, and Sacred Heart of Mary School, Baltimore, MD. She was the administrator at Immaculate Conception Convent in Philadelphia. At St. Mary's Villa, Sr. Aurelia was the assistant administrator and the convent superior, also teaching at the university. At Sacred Heart, she also served as the convent superior.
Sr. Aurelia held a B.A from Holy Family University, an MS in Education from Temple University, and an MS in Special Education from Millersville (PA) University.
Health issues led to her move to Mount Nazareth, Philadelphia, in 2001. She continued to volunteer as a secretarial assistant at Nazareth Academy. In her final years, she split her time between the medical floor and the residential floors at the Mount.