To share messages of remembrance about a recently deceased sister please visit our Message of Remembrance page.
To make a donation in memory of one of our sisters, click HERE.
Are you looking for a Sister who served in your school, hospital, parish or other ministry?
Please complete our Find A Sister form.
Sr. Michael Onley (1931-2014)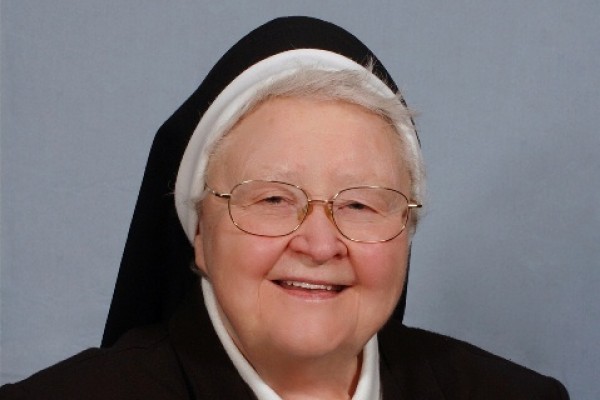 May 9, 1931—Feb. 23, 2014
On a sunny Saturday, May 9, 1931, people in Philadelphia were excited — the Empire State Building had just opened and the thoroughbred Mate had won the Preakness Stakes that day in nearby Baltimore. Edward and Marie Onley were excited because they were heading to Pennsylvania Hospital for the birth of their first child, Joan Marie. Edward, Marie and baby Joan were home for Marie's first Mother's Day.
Two years later, Patricia (now Sr. Francesca Onley) joined the household, followed by Edward and David. A loving bond existed between Joan and Patricia from early childhood. Their close-knit family loved to travel, to see the beauty God had created, to become acquainted with people of different cultures, and to learn the geography and history of the places they visit. So began the children's lifelong love of travel.
Before Joan graduated from St. Mathew elementary, Mrs. Onley told her she wanted her daughters to attend Nazareth Academy. She had met the CSFNs at Nazareth Hospital in Philadelphia, and was impressed by their care and concern. Joan was already registered for St. Hubert's, but followed her mother's wishes. Graduating in 1949, she wanted to work in healthcare and become a religious sister.
Having served as a volunteer at Nazareth Hospital, Joan applied for a job there and was delighted when she was hired in the X-ray department. She returned to school, becoming a licensed X-ray technician. One goal was fulfilled. Meanwhile, Patricia had joined the CSFNs, and was now known as Sr. Francesca. Joan had held her vocation dreams close to her heart since childhood, and this was the time to act on her call. On Sept. 8, 1952, Joan became a postulant. On March 9, 1953, Joan entered the novitiate, becoming Sr. M. Michael. During the same ceremony, Sr. Francesca professed her first temporary vows.
After professing her first temporary vows in 1955, Sr. Michael returned to Nazareth Hospital's X-ray department. Eventually, she was named director of radiology and taught in the school of radiologic technology. Later, she was responsible for transferring the program to Holy Family University.
During her 10 years in hospital administration, Sr. Michael contributed to forming policy and ensuring compassionate care for patients. She served as the vice president for patient services and the director of mission effectiveness, and coordinated the volunteer program. She retired from active ministry at the end of 2010, just before her 80th birthday. Health issues led to her transfer to Mount Nazareth in 2012.