To share messages of remembrance about a recently deceased sister please visit our Message of Remembrance page.
To make a donation in memory of one of our sisters, click HERE.
Are you looking for a Sister who served in your school, hospital, parish or other ministry?
Please complete our Find A Sister form.
Sr. Marie Rose Kotz (1924-2014)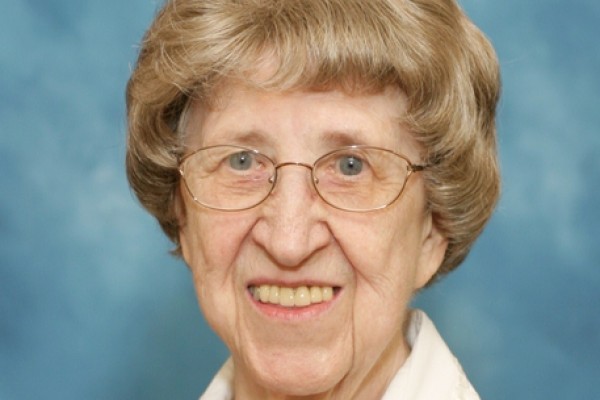 Aug. 30, 1924—April 12, 2014
"I felt like I belonged with them." That's how young Rose Kotz described her vocation to religious life with the Sisters of the Holy Family of Nazareth (CSFN). Growing up in Detroit, Rose, the second youngest of 11 children, experienced family life with God at the center. The family prayed the rosary together and attended Mass as a family. Novenas, processions and daily Mass were part of their life at Transfiguration Parish, where Rose first encountered the CSFNs.
Rose and her siblings often ran errands for the sisters and also helped in the church, sacristy, convent and gardens. The sisters, she said, were always kind to her when they asked for her help.
She attended Mt. Nazareth Academy in Pittsburgh, becoming a postulant in 1941, graduating in 1942 and entering the novitiate shortly thereafter. She made her first profession of vows in 1944, when she took the name Sr. Mary Jolanta. She returned to her baptismal name when the community offered that option and was known as Sr. Marie Rose.
Sr. Marie Rose began her long ministerial life in 1944 as a teacher at Holy Family Institute in Emsworth, PA. She continued to teach at various schools in Pennsylvania, Ohio and Michigan until 2005, when she returned to the then St. Joseph Provincialate in Pittsburgh, helping on community services. In 2011, she retired to Holy Family Manor in Pittsburgh.
Throughout the decades, she remained close to her large extended family, joining them for celebrations, fishing expeditions and parties where Sr. Marie Rose enjoyed singing and dancing with her many nieces and nephews. In her retirement, she participated in many activities at the Manor, and was known to help other sisters locate books, often sharing tomes from her personal library.
Her education ministry had extended to Poland, where she taught English to CSFNs there on a grant from the Leadership Conference of Women Religious. The Diocese of Cleveland recognized her for 25 years of classroom service there. Sr. Rose reflected on her years of ministry in these words: "I have become a better person and thereby helped others to become better and happier also. We are all connected. What happens to one, happens to others. I have touched thousands of lives for the better."
She was pleased with the changes Vatican II brought to vowed religious, writing: "Sisters today do not only work in orphanages and teach in school or work in hospitals. Today's sisters are into everything. They teach, work with families, help build homes, advise, console, lead, direct actions against health hazards, air pollution, chemicals, etc. You name it – they are there."
In a sense, she wrote her own epitaph: "Because of God, I love life and everyone in it."