To share messages of remembrance about a recently deceased sister please visit our Message of Remembrance page.
To make a donation in memory of one of our sisters, click HERE.
Are you looking for a Sister who served in your school, hospital, parish or other ministry?
Please complete our Find A Sister form.
Sr. Lillianne Murzyn (1916-2014)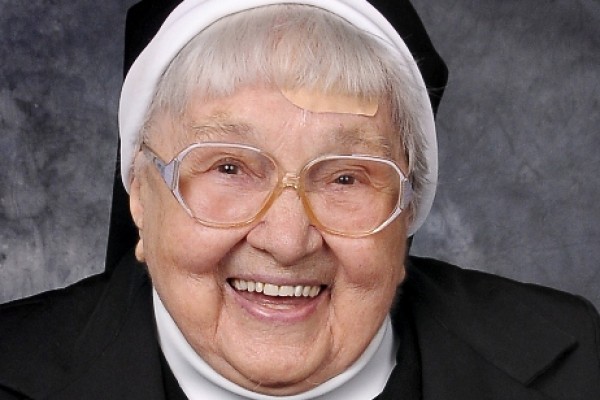 Sept. 11, 1916—May 24, 2014
Sr. Lillianne Murzyn could trace her vocation back to a specific date and place: The Feast of the Presentation, Feb. 2, 1931, at St. Adalbert Parish in Whiting, IN. On that day, she had been "chosen with three other girls to serve at a party and was privileged to serve the pastor. Sr. Vincentia, the superior of St. Adalbert's Convent, said, 'Wouldn't it be nice to serve the Lord in religious life?' This was the turning point in my life."
Soon, Mary was on her way to the Provincialate in Des Plaines, IL, despite the fact that her mother was reluctant to see her leave. Seven months after the Presentation party, Mary became a postulant, and in 1932, she entered the novitiate, taking the name 'Lillianne.'
Shortly after professing her first vows, Sr. Lillianne began her 67-year teaching ministry, in the first grade at Immaculate Heart of Mary School, Chicago. She continued to teach first grade at St. Hyacinth and St. Michael schools in Chicago while also attending DePaul University part-time, training altar boys and decorating the parish churches.
After receiving her degree in 1954, Sr. Lillianne was sent to St. Philip's in Montana to teach catechism. Returning to Chicago, she was elected vice president of the First Grade Teachers' Organization in the Chicago Archdiocese. In 1956, her first-grade teaching ministry ended when she was appointed principal and convent superior at St. Andrew in Calumet City, IL.
A niece often teased Sr. Lillianne that she should go to a distant location like Texas so the family could travel south to visit her. In 1962, that wish came true as Sr. Lillianne was transferred to be principal and superior at St. Luke School, Irving., TX. Sr. Lillianne also served as a councilor for the Southwest Vice Province, was on the Mother Frances Hospital Board from 1966-69, and was elected secretary for the Principals' Association in the Diocese of Dallas.
Following St. Luke, Sr. Lilliane was transferred to St. Andrew School in Fort Worth, teaching reading to 5th- to 8th-grade students. She returned to graduate school part-time, earning a Master's Degree in reading from Marygrove College, MI, in 1974. From 1978-83, Sr. Lillianne served as principal and local superior at Holy Family School in Irving, TX. Next up: Immaculate Conception School in Grand Prairie, where she taught reading to small groups of children. Over the years, many of those students returned to thank her for her encouragement which helped them achieve their goals later in life.
After 17 years at Immaculate Conception, Sr. Lillianne retired to Good Shepherd Convent, Grand Prairie, in 1974. "Here," she wrote, "my mission changed from active ministry to prayer. I spend my time for the greater honor and glory of God, praying for the salvation of souls." She also remained involved in the Association of the Holy Family, eagerly preparing for monthly meetings to share and enrich the lay members with the spirit of Nazareth.
Only in the past year did Sr. Lillianne begin to show signs of physical weakness. She fell twice in May, and asked to be sent home to the convent, where she remained bedridden though still smiling to all who visited her. She died peacefully with sisters gathered in her room, praying the Rosary and the Divine Mercy chaplet and singing hymns.