To share messages of remembrance about a recently deceased sister please visit our Message of Remembrance page.
To make a donation in memory of one of our sisters, click HERE.
Are you looking for a Sister who served in your school, hospital, parish or other ministry?
Please complete our Find A Sister form.
Sr. Gregoria Kozlowska (1910-2014)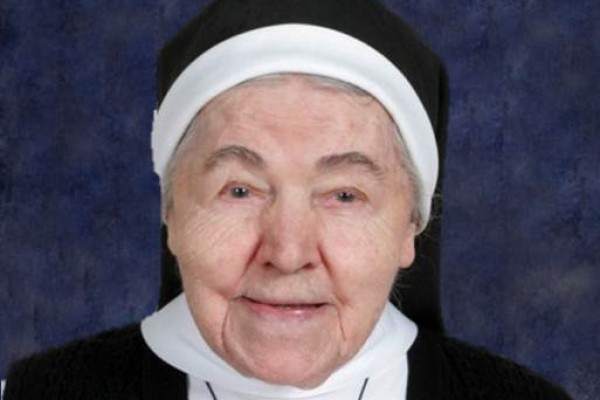 Sept. 5, 1910 – June 1, 2014
Clementine Kozlowska was the oldest child of Francis Kozlowski and Angela Stankiewicz, who met on the ship bringing them from Poland to the U.S. Family stories indicate that Angela wanted to enter religious life; instead, she and Francis married and had three children. Clementine, the future Sr. Gregoria, told the story of her mother taking her little infant hand into her own and making the Sign of the Cross on her precious baby girl, perhaps dreaming her daughter would become a sister.
That dream was fulfilled after Clementine attended Our Lady of Consolation School in Mt. Carmel, PA, and Mt. Carmel High School, and worked for a year before joining the CSFNs. She entered in Torresdale, PA, in 1929, taking the name Mary Gregoria as a novice in 1930, then sailing to the CSFN novitiate in Albano, Italy. It would be 18 years before she would see the U.S. again.
After professing temporary vows in 1932 in Albano, Sr. Gregoria was sent to Warsaw where she was a student and a teacher. She professed final vows in 1938 in Albano, returning to Poland where she taught in Kalisz before transferring to Paris in 1939. While there, she studied French at the university. With the upheaval of World War II, it would be nine more years before Sr. Gregoria would return home to the U.S. She did not share much about her experience in Paris under the Nazis, but her family said she needed five years after her return before she could eat a normal diet following years of living on a menu heavy in sunflower seeds and roots.
After her return in 1948, Sr. Gregoria taught in high schools in New York, Pennsylvania and Massachusetts, earning a BA from Manhattan College in 1954. From 1969-78, she returned to Mt. Carmel to care for her mother while teaching at Holy Spirit School. After the death of her mother, Sr. Gregoria returned to what was then Immaculate Heart of Mary Province in Monroe, CT, teaching in New York, New Jersey and Connecticut until retiring in 1989.
In retirement, she volunteered one day a week at the Pope John Paul II Center for Health Care in Danbury, CT. Her knowledge and rich experiences gave her much to share with the residents. Eventually, she organized a weekly program featuring tapes of the programs of Bishop Fulton Sheen.
As the CSFNs marked 100 years of service in the U.S., the U.S. province offered special retreats on Nazareth Spirituality. Sr. Gregoria travelled with three other sisters to Pittsburgh for retreat; as they drew closer, she spoke of her love for the area and shared a few bits from her past life: She had been a cheerleader while in high school and wore a raccoon coat during the Roaring Twenties! On retreat, she cherished the classical writings of the Church but also embraced the more contemporary spiritual books available. She was always open to new ideas and teachings.
When the CSFNs in Monroe began to foster the Association of the Holy Family, Sr. Gregoria spoke to the Monroe group about her association with some of the sisters killed by the Nazis in Nowogrodek on Aug. 1, 1943. She said she knew nine of the 11 sisters and had lived with seven of them at one time.
On Sept. 5, 2010, when she celebrated her 100th birthday, cousins from Michigan came to Monroe to join in the festivities. Sr. Gregoria seemed to rejoice in her own reverential way at the end of Mass when she was presented with a bouquet of yellow roses while the sisters sang to her. Not quite three years later, she died quietly on the evening of June 1.