To share messages of remembrance about a recently deceased sister please visit our Message of Remembrance page.
To make a donation in memory of one of our sisters, click HERE.
Are you looking for a Sister who served in your school, hospital, parish or other ministry?
Please complete our Find A Sister form.
Sr. Mechtilda Rafalowska (1911-2014)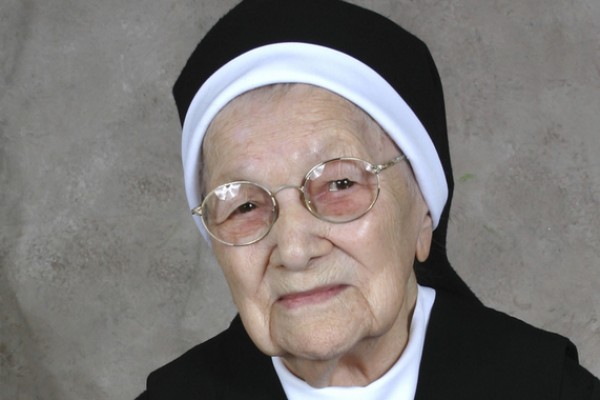 Feb. 19, 1911 – Sept. 10, 2014
A native of Ansonia, CT and the second of eight children, Josephine Rafalowska attended St. Michael School in Derby, CT, graduating in 1926. She joined the CSFNs in August that year, attending Nazareth Academy in Torresdale, PA. In addition to her high school diploma, she received her Normal Certificate for Teacher Training in Torresdale.
In 1927, young Josephine began her novitiate at Sacred Heart Province in Chicago, receiving the name 'Mechtilda.' She professed her temporary and perpetual vows in Torresdale.
Sr. Mechtilda's ministerial life centered on elementary education in New York, New Jersey, Connecticut and Pennsylvania from 1929 – 1991. She was known for her patience and kindness toward her students, sharing with them her great love for Jesus. Before their First Holy Communion day, she would lead her children through a special day of recollection as she prepared them to receive the Eucharist. Her love for Jesus was second only to her love and devotion to the Blessed Mother. She treasured her Polish heritage, particularly its traditional hymns. Among her favorites, the Lourdes hymn: Po gorach, dolinach.
Sr. Mechtilda was known for a variety of talents that she shared with her sisters, her students and her family. A talented cook, she also was an excellent seamstress and artist. Her classroom decorations were her unique creations. She loved to shop for satin material on Delancey Street in Manhattan's Lower East Side, bargaining with merchants for the best prices for their wares. She transformed those purchases into outfits for the Infant of Prague statue. She also enjoyed visiting and traveling with her family. When helping with family meals in the kitchen, she was known as 'the boss.' Nothing escaped her sharp eyes and quick sense of humor.
Retiring from teaching in 1991 (at age 80!), she was transferred to the then Immaculate Heart of Mary Provincialate in Monroe, CT in 1992. In her retirement, she asked to go to Poland and by special request, she resided with the sisters in the Krakow province from January 1996 through November 2000, when she returned to Monroe. The young sisters in Poland continued to correspond with Sr. Mechtilda for several years.
A highlight of this period was the March 5, 2000 beatification of Sr. Stella and her 10 Companions, the CSFN Martyrs of Nowogródek. A fellow sister recalls that Sr. Mechtilda, then 89, "was present in Rome for the beatification … through the kindness of the Krakow Provincial Superior who had Sister join her on the plane to Rome. When I arrived at the Generalate, she was standing on the front stairs BEAMING with joy, not only to see me from Monroe, CT, but because she was able to be there at all."
Back in Monroe, each year Sr. Mechtilda acknowledged all the sisters celebrating jubilees – at first, with handwritten cards and later, as arthritis took over, with hand-typed notes to each jubilarian. She loved Nazareth and showed this by her many acts of kindness. When the mother of a sister died in Brooklyn, NY, Sr. Mechtilda, now 95, joined the sisters driving from Monroe to the wake in New York.
While she appeared to be on heaven's doorstep more than once in her final months, Sr. Mechtilda seemed to rally and bounce back to the astonishment of all. When sisters and staff visited her in her final days, Sr. Mechtilda told them in her soft, but strong voice: "I love you all!"