To share messages of remembrance about a recently deceased sister please visit our Message of Remembrance page.
To make a donation in memory of one of our sisters, click HERE.
Are you looking for a Sister who served in your school, hospital, parish or other ministry?
Please complete our Find A Sister form.
Sr. Bernadette Pasek (1916-2014)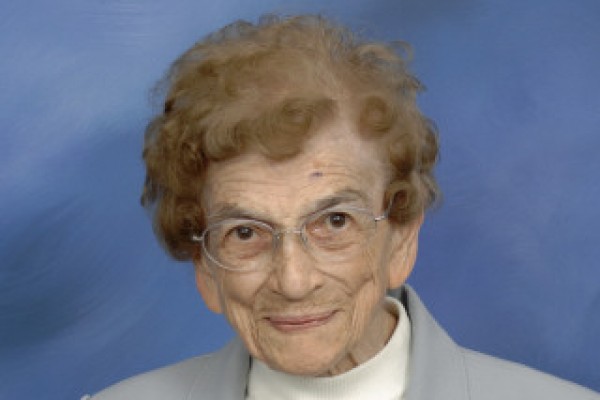 Dec. 10, 1916 – Sept. 14, 2014
Genevieve Pasek was a smart little girl, able to read the newspaper at age four, when she began school. Her family was very devout, praying together at meals and at night. Genevieve attributed the seeds of her vocation to her parents and to one of her teachers, Sr. Conceptia, CSFN. Sr. Conceptia gave the young girl voice lessons; by 6th grade, Genevieve was singing at weddings, funerals and anniversaries.
Taught by the Sisters of the Holy Family of Nazareth, she graduated at age 10 from St. John the Baptist School in Harvey, IL. Sr. Conceptia had been her teacher in 7th and 8th grades, enlisting Genevieve's help around the convent. "I decided to become a sister because of Sr. Conceptia," Genevieve later wrote. Seeing the novices when she visited the Provincialate chapel in Des Plaines, IL., she said she heard "something say, 'Genia, this is your life.'" By the time she was 11, she was an aspirant studying at Holy Family Academy, Chicago.
Graduating from the Academy in 1934, she entered St. Mary's School of Nursing, Chicago, that same year, becoming an RN in 1937. Her first assignment was as a supervisor of a 28-bed pediatric unit at St. Mary's and it proved to be her lifelong ministry. She remained in Pediatrics until 2007. Her mission — caring for sick children — even touched her hobbies, such as crocheting baby sets and blankets. She had many reasons for her love of pediatrics, ranging from the joy of returning a lost security blanket to a sick child to taking children to X-ray in a red wagon. She loved caring for children, she said, because they were "just plain fun!" Her Hispanic patients had a hard time pronouncing her name, so she told them to just call her 'Chiquita.' She always remembered family birthdays, and was much loved by her nieces and nephews.
Sr. Genevieve earned a BS and an MS in nursing from DePaul University, Chicago. She received a degree in Clinical Teaching from Catholic University in Washington, DC; she presented papers at professional meetings. She also taught at Alexian Brothers Hospital in suburban Chicago.
Her joy in her ministry was interrupted when she was stricken with an inflammatory disease of the brain and spine at age 46. She remained partially paralyzed for weeks and was told she might never walk again. However, Sr. Bernadette was a physical therapist's dream client: she exercised, eagerly did her PT, invited visitors to walk with her down the hospital corridor, using an arm and a crutch for support. Eight months after she became ill, she returned to teaching in a wheelchair, eventually walking again.
At her 75th jubilee, Sr. Bernadette observed, "So much history winds it way through my 75 years of religious life that no amount of photos in my album ... can begin to touch the chronicle that I carry in my head and in my heart. I believe that my decision to enter the convent was the best choice that I ever made…
"I am a Sister of the Holy Family of Nazareth, and I don't mean a Nazareth Sister in a static sense but a dynamic nun that you and others and a thousand experiences have molded and fashioned, especially my {family], relatives, friends, doctors, nurses, my religious superiors, sister and my teachers."