To share messages of remembrance about a recently deceased sister please visit our Message of Remembrance page.
To make a donation in memory of one of our sisters, click HERE.
Are you looking for a Sister who served in your school, hospital, parish or other ministry?
Please complete our Find A Sister form.
Sr. Feliciana Ziemba (1920-2014)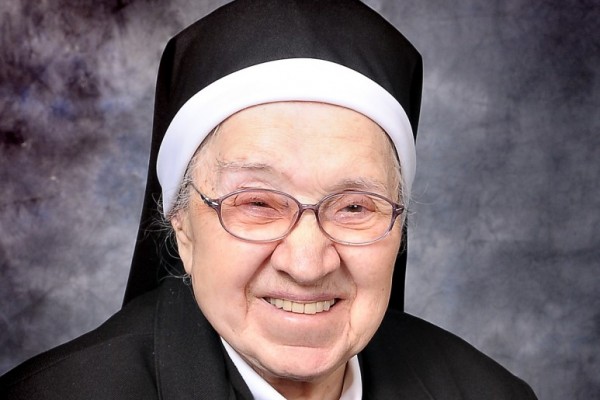 May 29, 1920—Dec. 23, 2014
A Chicago native who spent most of her ministerial life in Texas, Sr. Feliciana Ziemba dedicated 62 years to nursing. The oldest of four children, young Stephanie Ziemba grew up in St. Adalbert Parish in Chicago, becoming a CSFN aspirant upon leaving elementary school. She became a postulant in 1938 and graduated from Villa Nazareth High School in Des Plaines, IL, on June 5, 1939, when she entered the novitiate and received the name 'Feliciana,' meaning 'happiness.' Over the years, her colleagues attested that she lived up to her name, as they "were uplifted by your smile."
Sr. Feliciana began her nursing studies as a junior professed sister, graduating from St. Mary School of Nursing, Chicago, on July 10, 1944. Her nursing career took her south – to Dalhart, TX; Montgomery, AL; Mineral Wells, TX, and Clayton and Taos, NM. In 1966, Sr. Feliciana was transferred to Mother Frances Hospital in Tyler, TX, where she served for 40 years until her retirement in 2006.
While at Mother Frances, Sr. Feliciana was named supervisor of the Intensive Care Unit, creating the region's first coronary critical care unit. She also learned how to read EKGs and trained more than 500 nurses in critical care throughout East Texas. In 1968, she assisted Dr. Patrick R. Thomas in the first pacemaker surgery at Mother Frances hospital and established standard follow-up and monitoring protocols for pacemaker recipients. Throughout her nursing ministry, Sr. Feliciana always kept pace with ongoing education in her field and was recognized several times by the Heart Association and other various nursing boards. Upon her retirement, she was awarded the State flag of Texas by State Rep. Leo Berman for her dedication to Trinity Mother Frances Health System's Heart Program.
Upon retiring at age 86, Sr. Feliciana transferred to Jesus the Good Shepherd Convent in Grand Prairie, TX, where she pursued her other interests such as astronomy and meteorology – anything to do with the sky. She was always ready with a weather report when called upon. Devoted to her family, she enjoyed weekly phone calls from her brother Chester, who regularly sent Sr. Feliciana care packages to share with the community. Often they were wrapped in Chicago newspapers, so she could keep up with the news from her home town. And always they contained lotions and candies just for Sr. Feliciana.
After Chester's death in 2008, Sr Feliciana remained faithful to her prayer life and community activities. She enjoyed watching EWTN, particularly its broadcasts of Mass, the Rosary and other newsworthy programs. Poor eyesight meant Sr. Feliciana could no longer easily read, but she loved being read to – particularly from books about Padre Pio, Pope St. John Paul II and St. Thérèse, the Little Flower.
During her last few months, Sr. Feliciana was unable to communicate verbally, though she was always ready with a radiant smile for her sister-visitors.
Unexpectedly on Dec. 23, Sr. Feliciana took turn for the worse. Surrounded by her sisters, she died quietly, ready to spend her first Christmas in heaven.