To share messages of remembrance about a recently deceased sister please visit our Message of Remembrance page.
To make a donation in memory of one of our sisters, click HERE.
Are you looking for a Sister who served in your school, hospital, parish or other ministry?
Please complete our Find A Sister form.
Sr. Elizabeth Daher (1928-2015)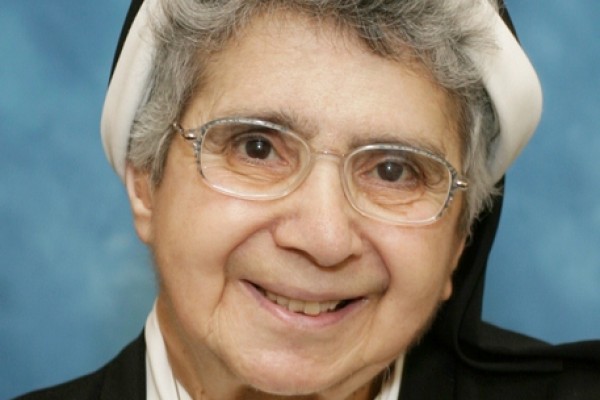 July 4, 1928 – Jan. 8, 2015
The ninth of 12 children, Juliette Daher grew up in a family of 10 children as two siblings died in infancy. Her parents, Habeeb Daher and Mary Razook, emigrated to the U.S. from Lebanon. Starting in fourth grade, Juliette attended the parish grade school; she attended St. Mary Cathedral High School in Lansing, MI. After graduating, she worked for an insurance company for three years before joining the CSFNs in 1949 at the then St. Joseph Provincialate in Pittsburgh, PA.
Her dedication to a life of prayer began at an early age. Seeking God's will for her, she prayed for 27 days, asking God to direct her life. She spent another 27 days in thanksgiving where she received direction: God wanted her to enter a religious community.
As a postulant, Juliette went to Mercy Hospital in Altoona, PA, to help in the office. Returning to Pittsburgh, she was accepted into the novitiate in 1949, receiving the name Sr. Mary Elizabeth. When she professed her first vows in 1952, her sister Isabelle was received into the novitiate as Sr. Maristella. Like her sister, her ministry was in health care and healthcare administration. She preceded Sr. Elizabeth in death.
Sr. Elizabeth spent her first year as a professed sister at St. Christopher Parish in Detroit, MI, where she taught 3rd grade. The next year, she returned to Pittsburgh, studying biology at the then Mount Mercy College, now Carlow University. In 1955, she began her hospital education to she could serve at the Mercy Hospital laboratory in Altoona. Sr. Elizabeth completed a 12-month training program at Nazareth Hospital, Philadelphia, becoming a registered medical technologist. Once certified, she returned to Mercy Hospital in Altoona as a medical technologist. After three years, she was transferred to the laboratory at Ohio Valley General Hospital in McKees Rocks, PA. Sr. Elizabeth next spent six months at Temple University Hospital, Philadelphia, training as a cytotechnologist on a grant. Passing the national exam, she returned to Ohio Valley and soon was transferred again to Mercy Hospital, Altoona. She worked in Mercy's lab in microbiology, cytology and as the assistant supervisor.
From 1966-68, Sr. Elizabeth studied for her master's degree at Henry Ford Hospital, affiliated with Wayne State University in Detroit. After graduation, she returned to Mercy where she was named supervisor of the lab in 1969. She also taught in the school for medical lab technicians. Her ministry at Mercy ended in October 1991.
Sr. Elizabeth was transferred to St. Leonard's Home in Hollidaysburg, PA and began a Clinical Pastoral Education program in 1992. She continued to minister at St. Leonard's until she transferred to Holy Family Manor, Pittsburgh, in 2000. Throughout her ministries, Sr. Elizabeth was loved by her sisters and co-workers because of her compassionate and gentle spirit. She was respected by her staff, working with them as a team, acknowledging their talents and fits.
In her later years, Sr. Elizabeth dealt with her Parkinson's disease through prayer and by living in the present moment. She did not complain about what she could not do, but continued to do what she could, reaching out to family and friends.