To share messages of remembrance about a recently deceased sister please visit our Message of Remembrance page.
To make a donation in memory of one of our sisters, click HERE.
Are you looking for a Sister who served in your school, hospital, parish or other ministry?
Please complete our Find A Sister form.
Sr. Dulciosa Czerwiec (1926-2015)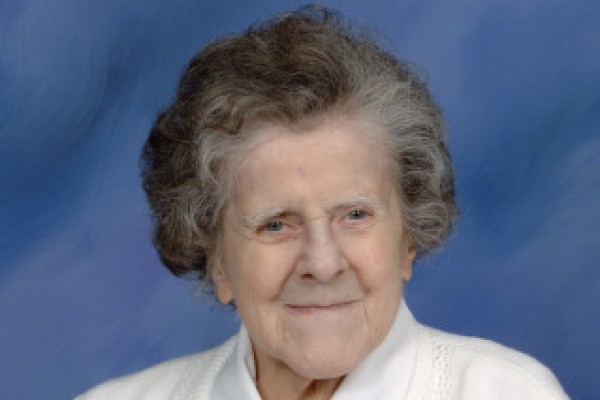 Aug. 9, 1926 – Jan. 19, 2015
The ninth of 11 children, young Eleonore attended St. Adalbert School in Chicago with her five sisters and five brothers. From her childhood, she was known as the kind of person who could get along with everyone – from her classmates at St. Adalbert's to her colleagues in the medical profession.
With the exception of her sister Ginger, all of her siblings – including younger sister, Sr. Aurelina, also a CSFN – preceded her in death. Sr. Aureline had entered the community before Eleonore, who remained at home to care for their mother. When her caregiving duties were no longer necessary, Eleonore joined the CSFNs in 1955 at age 29. She would have celebrated her 60th anniversary in the community this year.
After grade school, young Eleonore completed the two-year program at St. Adalbert's Commercial High School. Following her initial formation with the CSFNs in Des Plaines, IL, she attended the x-ray technician program at Bethania Hospital in Wichita Falls, TX, then a CSFN ministry. Meanwhile, Holy Family Hospital in Des Plaines was being built and soon Sr. Dulciosa would join the staff as an x-ray technician. After nine years, she moved to the admitting office, spending another nine years there before training as a pastoral care worker. Sr. Dulciosa continued in this ministry for 16 years at Holy Family. Long-time Holy Family employees remember Sr. Dulciosa as 'the little Sister' who was always spreading joy. In her later years, she was known for telling jokes to cheer up her patients. After retiring from the hospital, Sr. Dulciosa spent several years volunteering at Nazarethville before she herself became a resident in 2005.
'Sr. Dulcie,' as she was known in her later years, was always joking or passing out compliments to sisters and colleagues. It was habit she nurtured from her youth. Before professing her perpetual vows, she wrote a letter to the Hearts of Jesus, Mary and Joseph, praying for family members and sisters by name, for her colleagues at Holy Family Hospital, for all those suffering in the world, for all whom she had ever met and would ever meet. She prayed that Mother Foundress would be canonized one day soon and that God would help her become a saint before she died.
Her fellow sisters believe she spent her life fulfilling those pledges. She died peacefully on the morning of Jan. 19.