To share messages of remembrance about a recently deceased sister please visit our Message of Remembrance page.
To make a donation in memory of one of our sisters, click HERE.
Are you looking for a Sister who served in your school, hospital, parish or other ministry?
Please complete our Find A Sister form.
Sr. Doris Marie Deane (1934-2015)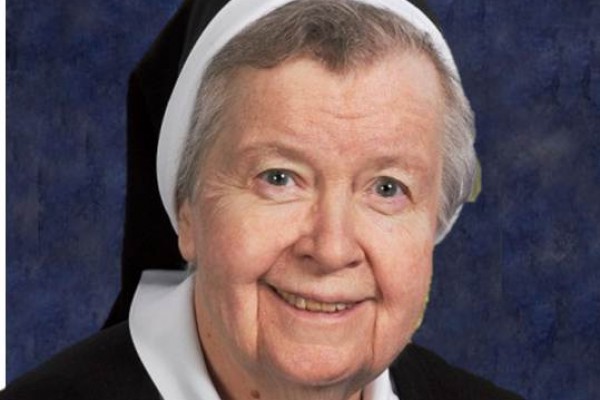 Sept. 14, 1934—Feb. 4, 2015
A native New Yorker, Doris Marie Wetzel Deane joined the Sisters of the Holy Family of Nazareth after losing her husband of 28 years, Eugene Deane, to cancer in 1983. Young Doris Marie graduated from Catholic elementary and high schools in Manhattan, then earned a BS in chemistry from St. Joh's University in Queens, NY. She worked as a chemist for the Barden Corp. in New York and in Danbury, CT.
Married in 1955, the couple moved to Brookfield, CT, and Doris continued her professional work, her commitment to the Secular Franciscans and other activities. Her family and some of the sisters noted that Doris had felt called to religious life long before the death of her husband and that she had, in fact, talked with him about her vocation before he died.
In 1984, she spoke with the chaplain of the new John Paul II Center for Health Care in Danbury about her interest in a religious vocation, and he introduced her to a CSFN on the staff. Doris became an affiliate, and eventually, joined the community after selling her home and giving away her belongings. She entered in 1987 and professed her final vows in 1994. She devoted 28 years to each of her vocations — her marriage and her life with the CSFNs.
Sr. Doris Marie attended the Bridgeport Hospital chaplaincy training program, receiving her certificate in 1991. She ministered at Good Samaritan Hospital, West Islip, NY, before attending St. Louis University for studies in formation 1996-97. Next, she was named director of novices and affiliates for the then IHM Province in Monroe, CT, residing at the Provincialate from 1997-2002 and working as a part-time chaplain at St. Vincent Hospital, Bridgeport. In 2002, she became head of pastoral care/chaplain at Good Samaritan Nursing Home in Syosset, NY, where she was ministering at the time of her death. She resided with the sisters at Little Flower Children's Home (St. Theresa of the Child Jesus Convent) in Wading River, NY.
Sr. Doris Marie was known as someone who took life as God gave it to her and 'ran with it." Whatever she did, whether in work or play or in her relationship with God, she did wholeheartedly. Her fellow sisters, ministry colleagues and family describe Sr. Doris Marie as someone full of gusto, joyful and dependable, ready and willing to help, very spiritual, committed to her work, full of fun, gentle and compassionate with the sick and dying, creating in art and amazing in sewing.