To share messages of remembrance about a recently deceased sister please visit our Message of Remembrance page.
To make a donation in memory of one of our sisters, click HERE.
Are you looking for a Sister who served in your school, hospital, parish or other ministry?
Please complete our Find A Sister form.
Sr. Claudia Zielachowska (1917-2015)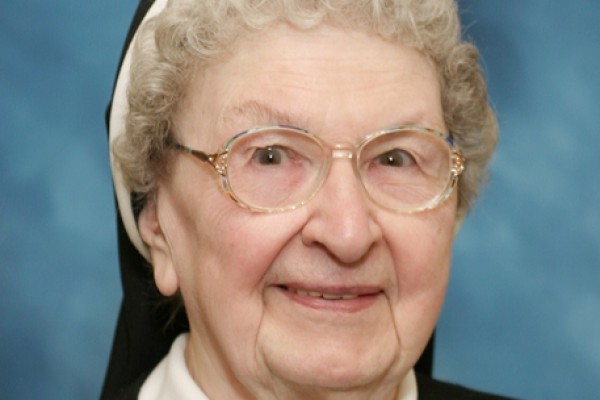 March 19, 1917 – Feb. 3, 2015
In her Christmas greetings to family and friends last year, Sr. Claudia Zielachowska updated them on various health issues while advising them that she hoped she would be able to stand on her own and be able to walk the halls of Holy Family Manor once again. Through periods with ulcers on her legs and operations to bring relief to them, she did everything she could, to remain as independent as possible, hoping to walk again with whatever assistance modern healthcare could offer.
She wrote a guiding mantra for herself, inspired by liturgical composer Marty Haugen's hymn, Shepherd me, O God, whose text continues: beyond my wants, beyond my fears, from death into life. She found comfort and solace in God during her periods of pain, seeking comfort in the arms of the Good Shepherd. She died just weeks short of her 98th birthday.
Born in Cleveland, young Josephine Eve was the third of four children. She attended St. Stanislaus School in Cleveland, where she first encountered the Sisters of the Holy Family of Nazareth (CSFN). The late Sr. Amadea Zakrzewski was particularly influential, helping young Josephine decide to become a sister. Touched by Sr. Amadea's kindness and patience, Josephine also admired the way all the sisters live their religious life. She described it as exciting and challenging. She was impressed by the inner peace that seemed to radiate from the sisters, and she was drawn to their obvious joy in their ministries and community life.
She thought that she, too, could bring peace, joy and fun in addition to Life to others by becoming a sister. After eighth grade, she came to Mount Nazareth Academy in Pittsburgh for high school, becoming a postulant a year before graduation. She entered the novitiate in August 1936 and professed her first vows on Aug. 15, 1938.
Next, she began her long teaching ministry at St. Stanislaus School in Erie, PA. She continued to teach as schools in Pennsylvania, Ohio and Michigan before retiring to Our Lady of Loreto Convent in June 2005. The three-year-olds at Holy Family Learning Center in Lakewood, OH especially loved to be around this tall and loving sister who shared stories with them about Jesus and life.
Sr. Claudia was known for the humorous stories she shared with sisters, family, her doctors and nurses – anyone who stopped her in a hallway or visiting area. She collected bits of humor to share regularly with others; she left behind an envelope filled with such stories and messages of laughter for her next visit to the doctor or with family.
Sr. Claudia was devoted to Nazareth and its foundress, Bl. Mary of Jesus the Good Shepherd (Frances Siedliska). Sr. Claudia looked to her for inspiration and guidance. Like Mother Foundress, she wanted her life to be a mirror that reflected wisdom, grace and a future for Nazareth that she wanted to pass on to others. She did so wherever she ministered, including her time as a resident of Holy Family Manor in Pittsburgh. There Sr. Claudia would be a helpful, loving guide to new residents, helping them feel at home. She shared her gifts with staff, visitors and anyone engaging in conversation with her for a few minutes. She crocheted towels that she gave in appreciation to staff, family members and friends. She was proud of her family and friends who provided many opportunities to enjoy life in the simplicity of sharing and caring for each other. Even the week before she died, Sr. Claudia was looking for more towels and colorful buttons to use in her creations.