To share messages of remembrance about a recently deceased sister please visit our Message of Remembrance page.
To make a donation in memory of one of our sisters, click HERE.
Are you looking for a Sister who served in your school, hospital, parish or other ministry?
Please complete our Find A Sister form.
Sr. Mary de Lourdes Zdrojewski (1916-2008)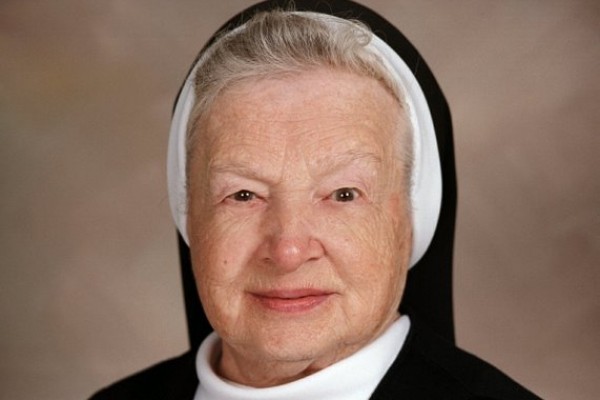 A native of Brooklyn, NY, Bernardette Catherine Zdrojewski followed her older sister Salomea (who became Sr. Amabilis), joining the Sisters of the Holy Family of Nazareth as an aspirant in Philadelphia on Feb. 11, 1931. In 1936, she was given the name 'Sr. Mary de Lourdes' in honor of her devotion to Mary's apparition at Lourdes and her namesake, St. Bernardette.
While still a novice, Sr. de Lourdes was recognized for her prayerfulness as well as her quick wit and the ability to find laughter in the ordinary foibles of daily life. Small of stature, she was noted for her great energy, talent and creativity in both the convent and the classroom.
She began teaching in 1938 at St. John Cantius School, Bridesburg, PA, an assignment of 10 years, before moving to St. Andrew and St. Joseph parish schools in New York. Her skill in teaching children with reading problems became a special focus; she taught remedial reading at St. Adalbert, Queen of Peace and St. Katherine of Siena, Philadelphia, and at Sacred Heart of Mary, Baltimore. Next, she 'taught' the teachers – as the community's Supervisor of schools, and then at Holy Family University, where she also directed the Reading Clinic. When others talked of retirement, she continued to serve the needs of special education children for 14 years.
In November 2007, she began to experience health problems, followed by a heart attack and stroke. Sr. de Lourdes died on the first Saturday of January, the feast of St. John Newmann, the founder of the Philadelphia Archdiocesan School System she had served with such joy.