To share messages of remembrance about a recently deceased sister please visit our Message of Remembrance page.
To make a donation in memory of one of our sisters, click HERE.
Are you looking for a Sister who served in your school, hospital, parish or other ministry?
Please complete our Find A Sister form.
Sr. Leona Mitra (1922-2015)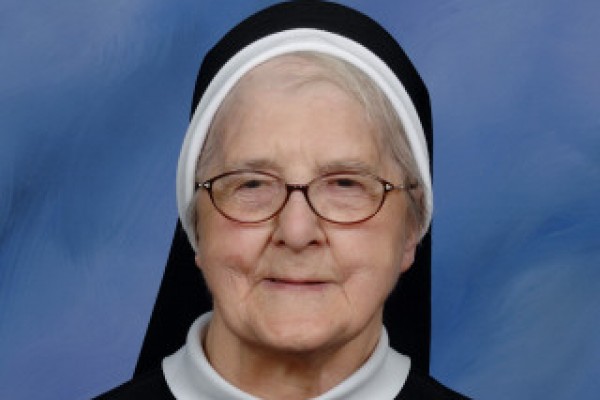 July 2, 1922 – Feb. 10, 2015
Born on the Feast of the Visitation of Our Lady, Sr. Leona died quietly the day before the feast of Our Lady of Lourdes, fitting bookends for one with her special devotion to Mary. Her room always had a large statue of Mary surrounded by flowers.
Young Leona grew up in Chicago with two sisters, who preceded her in death. The family was active at St. Hedwig Parish and the girls attended the parish school, where they were taught by Sisters of the Holy Family of Nazareth. In her Life Portrait, she recalled a special memory of her mother sewing a white dress for young Leona's First Holy Communion, telling Leona that Jesus would come into her heart and stay forever. Soon after this encounter, the stirrings of her religious vocation began. Sr. Tarcisius, Leona's 8th-grade teacher, guided her in this direction.
Her family life also encouraged her love of music. Her father, an accomplished concertina player, made music for the family, with everyone playing, singing and dancing on many occasions. Her mother had a beautiful voice and sometimes sang in church. Love of God and love of music stayed with Leona all her life.
She became an aspirant after graduation, moving through the formation process and becoming Sr. M. Clarence on her acceptance into the novitiate, returning to her baptismal name after Vatican II. Sr. Leona attended college briefly and taught the primary grades for several years. Several bouts of illness ended her time in the classroom. She also was a parish organist and directed children's choirs. She served as organist at St. Mary of Nazareth Hospital in Chicago and later, at the Provincialate in Des Plaines. When Nazarethville opened in 1974, she trained as a nursing assistant and cared for many of the sisters transferred from St. Mary's Infirmary. Illness intervened again, and Sr. Leona returned to the ministry as an organist, seamstress and piano teacher.
Sr. Amata Sweeney, who died Oct. 21, 2014, was Sr. Leona's best friend. They shared a birthday, became postulants on the same day and they celebrated their diamond jubilees together last year. Because Sr. Amata was Irish and prayers and conversations were always in Polish, Sr. Leona became a translator for Sr. Amata at the request of their formation directors. As she stated, "A friendship was born and became sealed for a lifetime. I have found 'Pearl' in the plan of Almighty God."
Sr. Leona was resilient, bouncing back after each setback in her health. Whenever anyone would ask how she was doing, her usual response was "100 percent" or even "110 percent." Everyone was important to Sr. Leona; she appreciated every person who came into her life and she let them know it. Sr. Leona's last day was beautiful. She had been alert the previous day but was unresponsive on the Monday she died. Sisters took turns sitting with her and praying. In the early afternoon, the music therapist from Hospice visited, playing the harp in Sr. Leona's room. By mid-afternoon, Sr. Leona slipped away with a small wooden cross in her hand and this poem on a tattered piece of paper:
I have it always with me every step I take
At evening when I slumber, at morning when I wake.

And when the time approaches – when I will have to die,
I hope my little crucifix will close beside me lie.

That the Holy Name of Jesus will be the last I say
And kissing that dear crucifix – my soul will pass away.