To share messages of remembrance about a recently deceased sister please visit our Message of Remembrance page.
To make a donation in memory of one of our sisters, click HERE.
Are you looking for a Sister who served in your school, hospital, parish or other ministry?
Please complete our Find A Sister form.
Sr. Aloysius Sabacinska (1913-2015)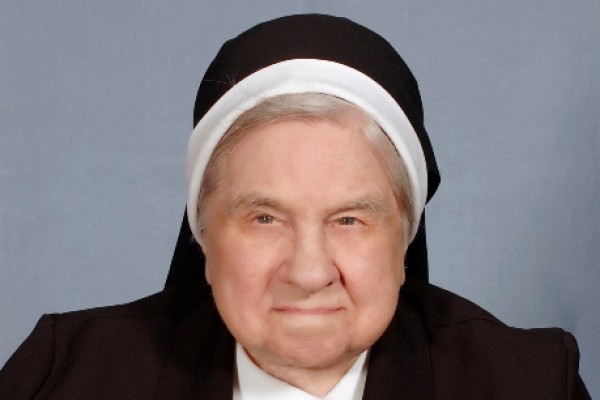 January 16, 1913 - February 11, 2015
The second president of Holy Family University, Sr. M. Aloysius Sabacinska, 102, died on Feb. 11, the feast of Our Lady of Lourdes. That's also Charter Day at Holy Family, the day the university celebrates the signing of its charter.
When Holy Family College opened in 1954, Sr. Aloysius became its first registrar, business manager and admissions officer. She was a member of the first board of trustees, and in 1961, she became a full-time professor in the Psychology Department. When Sr. M. Neomisia Rutkowska, the first president, was elected Superior General of the CSFNs, Sr. Aloysius was appointed president in 1959.
During her tenure at the helm of Holy Family, Sr. Aloysius led the university in a variety of efforts, acquiring Marian Hall, opening a student residence, adding programs in elementary education and nursing, building and dedicating the library, establishing a Reading Center and opening Holy Family's doors to men. Sr. Aloysius served as president until 1971, when she was elected a general councilor in the CSFN General Administration in Rome. In 1977, she was appointed Assistant Superior General, serving until 1983. Sr. Aloysius then returned to the university, serving in the Office of Continuing Education and participating in campus life until she retired to Mount Nazareth in 2002.
A native of Worcester, MA, Sophie Mary Sabacinska was the oldest of six girls. They attended St. Mary of Czestochowa School, taught by the Sisters of the Holy Family of Nazareth. Toward the end of 8th grade, Sophie expressed interest in joining the sisters, and her parents agreed that she would attend Nazareth Academy in Philadelphia. She formally entered the community on July 19, 1927.
While in temporary vows, Sr. Aloysius began her teaching career, which included assignments at St. Hedwig School, Cambridge, MA; St. Stephen in Patterson, NJ, and Nazareth Academy Grade School in Philadelphia. She also continued her academic pursuits, earning a BS and an MA from Catholic University of America in Washington, DC, and completing graduate work at the University of Fribourg, Switzerland. Next, Sr. Aloysius earned a PhD from Catholic University of Ottawa (Canada).