To share messages of remembrance about a recently deceased sister please visit our Message of Remembrance page.
To make a donation in memory of one of our sisters, click HERE.
Are you looking for a Sister who served in your school, hospital, parish or other ministry?
Please complete our Find A Sister form.
Sr. Lydia Sekowski (1917-2015)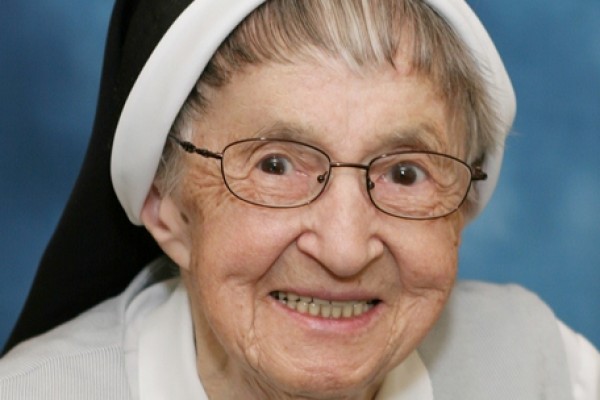 Sept. 11, 1917 – April 3, 2015
Father, I put my life in your hands. That psalm response from the Good Friday liturgy had special meaning at Holy Family Manor in Pittsburgh this year, where Sr. Mary Lydia Sekowski had died that morning, surrounded by caregivers, sisters, and friends.
She had celebrated laughter, love and life with her family one day earlier, when her nephew's family visited from Virginia. They even brought the family dog, which brought a smile to Sr. Lydia's face. Her caregivers noted that Sr. Lydia continued to bask in her family's love until God called her home on Good Friday morning.
Family was always an important part of Sr. Lydia's life in Nazareth. During her time at Holy Family Manor, nieces and nephews and their families were regular visitors, usually accompanied by treats of candy and special gifts. They graced her room with flowers, chocolate and simple gifts made by her grandniece, Lydia, and other family members. The family also participated regularly in family gatherings at the Manor. Her nephew Ted is the designated family captain for Sister Lydia's Angels, the family team committed to raise money for the annual Highmark Walk in Pittsburgh. Back in 1972, when someone was needed to care for aging Sekowski parents, Sr. Lydia cared for them for two years in Gallitzin, PA, her hometown.
The daughter of Mary and Anthony Sekowski, Christina was the fourth of seven children. She attended Our Lady of Czestochowa elementary school where the CSFNs were her teachers. After graduation, Christina was admitted as an aspirant to the congregation, attending Mount Nazareth Academy in Pittsburgh. In 1936, she was given the name Mary Lydia upon her reception to the novitiate, and professed her first vows in 1938. Next, she attended St. John College in Cleveland, where many CSFNs joined women religious from other congregations in pursuing degrees in education. Sr. Mary Lydia earned both her bachelor's and master's degrees from St. John's.
Now she was ready to embark on her teaching ministry, spending more than 50 years in the classroom, most often in the primary grades. She spent seven years at St. Stanislaus School in Cleveland, her first assignment. She continued to teach for decades at Catholic schools in Michigan, Ohio, Pennsylvania and even in Montgomery, AL. From there, she returned to Pittsburgh where she taught kindergarten at Mount Nazareth Learning Center from 1989-93. Her students remembered her fondly: Sr. Lydia recalled a day in 2000 when a first-grade student from 1944 called her, wanting to visit with his wife, reminding her of her kindness to him when she taught him in Cleveland. Another of her students from the Learning Center honored her memory at St. Lydia's wake.
Sr. Lydia 'retired' to Holy Family Manor on Sept. 30, 2002, but her fellow sisters note that she never retired from proclaiming the Kingdom of God's Love to all she met. For as long as she was able, she continued to knit, crochet, sew and mend items for the sisters and residents of Holy Family Manor, where she was known as the smiling sister. She continued to participate in community events, even attending the 2014 Grateful Gathering, held off-site for the first time in October. She remained a faithful friend to the late Sr. Elizabeth Daher, accompanying her on their weekly journeys to the Life Pittsburgh Center for its program of care for the elderly. And up until the day before she died, she continued to enjoy – and share – her favorite candy, jelly bellies. Like the New Testament Lydia of Thyatira (Acts 16:14), Sr. Lydia reverenced God through her love and reverence for all she encountered.