To share messages of remembrance about a recently deceased sister please visit our Message of Remembrance page.
To make a donation in memory of one of our sisters, click HERE.
Are you looking for a Sister who served in your school, hospital, parish or other ministry?
Please complete our Find A Sister form.
Sr. Louise Jurewicz (1914 – 2015)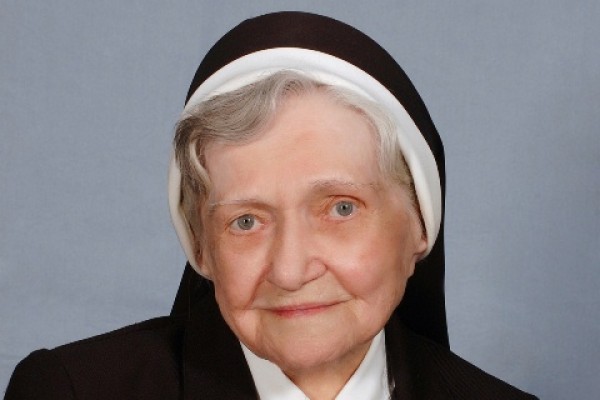 March 7, 1914 – April 15, 2015
The second child of Polish immigrants Adolph and Anna Jurewicz, Louise (called Lonia) was born in Simpson, PA, in the northeast of the state at the northern edge of coal country. Louise, her parents and older brother John soon welcomed Stanley, Sophie and Anthony into the family. Sophie, age 2, died in the 1918 influenza epidemic.
As oil overtook coal as an energy source, local economy fell on hard times and the family moved to Cambridge, MA, where Mr. Jurewicz worked in an oil refinery. The children attended St. Hedwig School, staffed by the Sisters of the Holy Family of Nazareth. The family enjoyed the community and parish life; they also enjoyed the many attractions of Cambridge – Harvard University, MIT, libraries, museums, parks and the Charles River. A bonus: Boston was in walking distance.
When Lonia was eight, her father was killed in an accident at the oil refinery. Her mother, an accomplished seamstress, began working full-time in a bakery to support the family. The boys helped out as much as they could while Lonia took young Tony under her wings. The children enjoyed the support of their parish community, as well as the cultural activities their city offered. After graduating from Cambridge High and Latin School, Lonia discussed her vocation plans with her mother, and then surprised family and friends by announcing she wanted to become a sister of the Holy Family of Nazareth. The superior of the CSFN convent in Cambridge accompanied Lonia on the train trip to Philadelphia. It was August 1931, three years after the new Provincialate had opened. One year later, Lonia received the white veil of a novice and the name Sr. M. Bozena, which means gift of God. She professed her perpetual vows in August 1940.
Sr. Bozena graduated from Holy Family College, studied to become a certified medical records librarian at St. Mary of Nazareth Hospital in Chicago, and took post-graduate and/or enrichment courses at Westminster College and the University of South Carolina. After earning her medical records certification, Sr. Bozena returned to Philadelphia, where she was the medical records librarian at Nazareth Hospital for 22 years. When sisters were permitted to return to their baptismal names, Sr. Bozena became Sr. M. Louise.
Next, Sr. Louise taught at St. Hubert High School for six years, followed by a six-year stint as the registrar at Holy Family College, when she also served as superior of the local convent. In 1981, Sr. Louise joined the local community at St. John Neumann Nursing home, where she visited with residents and served as sacristan. The office staff was delighted to learn she was a medical records librarian, and put her clerical skills to good use.
In 2010, at age 96, Sr. Louise thought it was time to retire, so she moved to Mount Nazareth. She enjoyed her leisure time praying, reading, visiting with other residents, raising African violets and maintaining an active correspondence with family and friends. On March 7, 2014, she celebrated her 100th birthday with plenty of cake and ice cream for the sisters, friends, family and former colleagues who joined her for the festive occasion. A simpler, but still festive celebration was held for her 101st birthday this year.
On April 13, Sr. Louise fell in her room, but X-rays showed no breaks. The following day, after receiving communion, Sr. Louise fell again. This time, her injuries were severe. She was moved from the emergency room to hospice care, and died the next evening, after a long and beautiful life.