To share messages of remembrance about a recently deceased sister please visit our Message of Remembrance page.
To make a donation in memory of one of our sisters, click HERE.
Are you looking for a Sister who served in your school, hospital, parish or other ministry?
Please complete our Find A Sister form.
Sr. Margaret Mary Machowska (1924-2015)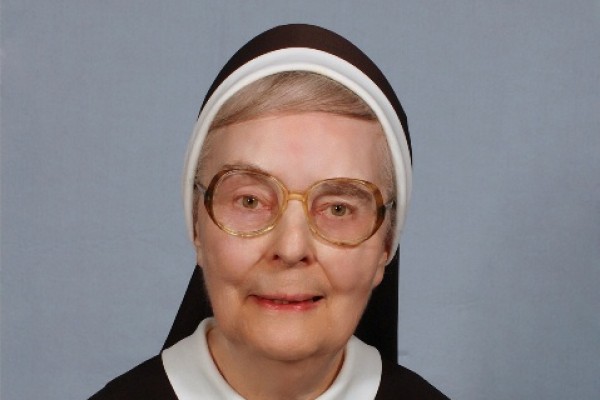 Nov. 12, 1924 - June 27, 2015
Anna Machowska first encountered the CSFNs at St. Joseph Parish School in Ansonia, CT, and soon the seeds of her vocation were planted. The sisters were excellent teachers, and Anna wanted to be like them. She spoke often to her teachers about her vocation plans and the sisters prayed with her.
Natives of Poland, her parents had met in New York City, where they married and had their first three children. They moved to Connecticut for job opportunities, staying with relatives until they were able to procure their own farm in Ansonia. Anna, the 'little sister,' was the only child born in Ansonia. In 1941, the little sister moved to Philadelphia to become a CSFN postulant, receiving the name 'Margaret Mary' when she was accepted as a novice. She professed her final vows on Aug. 15, 1950.
Sr. Margaret Mary had a variety of assignments, from teaching to university work to the formation of candidates to religious life. She held a bachelor's degree from Villanova University and a master's from Drexel University, both in Philadelphia. She taught at St. Joseph School, Jamaica, NY; St. Adalbert School, Elmhurst, NY, and St. John Cantius, Philadelphia. Next, she was an instructor at Holy Family University, Philadelphia, and after four years, its registrar and chief recruiter.
In 1968, she moved to Meadowbrook, PA, as director of novices, becoming the local superior two years later. In 1971, she became a provincial councilor. In 1978, she moved to Torresdale to serve as superior to the sisters living at the Provincialate and teaching at the Nazareth elementary and high schools. Next up: St. Mary of the Woods College in Indiana, where Sr. Margaret studied and became a certified gerontologist, enabling her to direct programs for older adults. She returned to Philadelphia as superior of Mount Nazareth. In 1988, she moved to Grand Prairie, TX, where she served six years as the vice-provincial of the Southwest area. Back to Philadelphia, Sr. Margaret Mary worked in the archives for a year, and then returned to the Mount as superior. Her final ministry: part-time in the University's advancement office. She retired full-time to Mount Nazareth, eventually transferring to the medical floor.