To share messages of remembrance about a recently deceased sister please visit our Message of Remembrance page.
To make a donation in memory of one of our sisters, click HERE.
Are you looking for a Sister who served in your school, hospital, parish or other ministry?
Please complete our Find A Sister form.
Sr. Rosaline Karolak (1912-2008)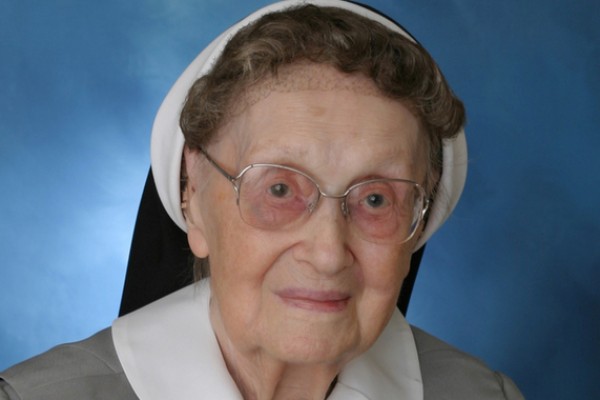 Sr. M. Rosaline Karolak traveled the world but found her home at Nazareth. A Pittsburgh native baptized at St. Stanislaus Kostka Church, young Helen Karolak and her siblings were placed at Holy Family Institute after their mother died, while their father worked, paying room and board. The younger children returned home when her father remarried, but Helen, already in her teens, remained at Holy Family. She entered the Congregation in 1925 in Pittsburgh. Sr. Rosaline earned bachelors and master's degrees in education from Duquesne University.
Sr. Rosaline was sent to minister in Europe before the start of WWII. While in Poland, she served as an informant on the progress of the war. Hiding in the attic with a radio, she has messages waiting for Fr. Jan Pietraszko who relayed these to Church leaders. She returned to the U.S. in 1942, and by chance, served as a translator on the ship for the U.S. government prior to disembarking.
As an educator and organist, Sr. Rosaline ministered in Italy, Poland, Australia and the U.S., serving in Pittsburgh, PA; Cleveland, OH, and Lansing and Detroit, MI. During her active ministry and into her retirement at Holy Family Manor, she was an avid reader and faithful correspondent with friends across the globe. She died with her sister Bernice, other family and sisters at her side.