To share messages of remembrance about a recently deceased sister please visit our Message of Remembrance page.
To make a donation in memory of one of our sisters, click HERE.
Are you looking for a Sister who served in your school, hospital, parish or other ministry?
Please complete our Find A Sister form.
Sr. Annette Sliwa (1917 - 2015)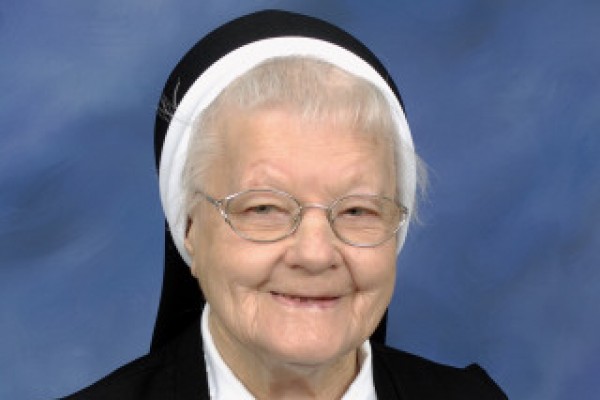 April 26, 1917 - July 16, 2015
Frances Theresa Sliwa, the fourth child of Andrew and Victoria who emigrated to the U.S. from Poland, grew up in Cicero, Il, a Chicago suburb. From an early age, she was attracted to religious life by the example of the CSFNs who taught her at St. Valentine Parish School in Cicero. At St. Catherine High School, she was taught by the Sisters of St. Casimir. After graduation, she worked in her grandfather's butcher shop as a cashier for a year. But she knew she had a vocation: "God was calling me to religious life and I followed his call." She joined the CSFNs in October 1934, professing her perpetual vows on the Feast of the Assumption in 1943.
Sr. Annette taught school for 44 years, including assignments at St. Ladislaus and Holy Family Academy in Chicago, as well as other schools in the Archdiocese. Teaching also took her to Kankakee, IL; Round-Up, MT, and Inver Grove Heights, MN, where she was principal and local superior. Sr. Annette held a BS in Education from DePaul University, a theology certificate from St. Xavier College and was certified to teach kindergarten through 9th grade. She met Cardinal Karol Wojtyla, the future Pope St. John Paul II, when she was teaching at St. Hedwig, Chicago. He remembered her every time they met, greeting her with, "Oh yes, you are Sister Annette Nazaretanka."
Also while at St. Hedwig, Sr. Annette learned to drive and was known to the Chicago sisters as their personal GPS system. She was transferred to the Des Plaines, IL, Provincialate in 1978 to drive, which she did for more than 19 years. Even as her eyesight failed, her GPS powers remained intact. She could direct the driver to any place in Chicago and the suburbs. She loved delivering baked goods at Easter and Christmas to the Cardinal's residence, the Chicago bishops, the Carmelites in Des Plaines and various benefactors. She treasured a photograph of herself with Cardinal Francis George (d. 2014).
Sr. Annette enjoyed crocheting towels and baby sets which she shared with her family and sisters. Her nephew Jimmy wrote how he looked forward to visiting her at her various convent homes; he enjoyed "the peaceful feeling that washed over me when you entered the waiting room." She enjoyed watching TV game shows such as Jeopardy with her friend, Sr. Martina Lacny, who died in March.