To share messages of remembrance about a recently deceased sister please visit our Message of Remembrance page.
To make a donation in memory of one of our sisters, click HERE.
Are you looking for a Sister who served in your school, hospital, parish or other ministry?
Please complete our Find A Sister form.
Sr. Therese Marie Kubicki (1927 - 2015)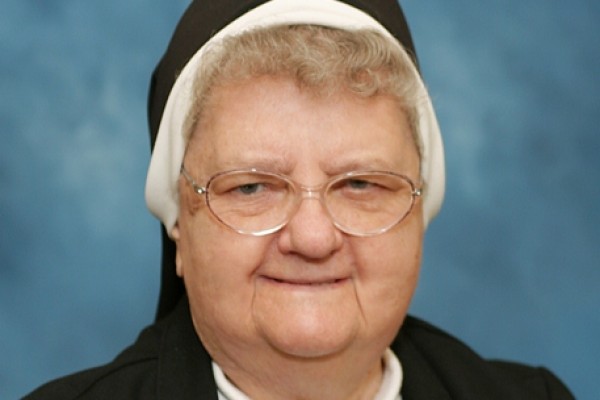 July 24, 1927—Aug. 21, 2015
The third of five children born to Joseph and Helen Kubicki in Erie, PA, young Therese received her name at baptism because her mother had great devotion to St. Therese the Little Flower. A native of Erie, PA, young Therese was unable to run or skip with her older brother and sister due to an issue with one of her feet. Her mother participated in a novena to St. Therese, offering her child to the saint for healing. When she returned home on the ninth day, Therese ran to her mother with her brother and sister. The family was astonished at the healing that had occurred.
Young Therese Kubicki first encountered the Sisters of the Holy Family of Nazareth at St. Casimir Parish School in Erie, PA. When it was time for high school, her parents permitted her to move to Pittsburgh so she could attend Mt. Nazareth Academy as a CSFN aspirant. She was accepted as a postulant in 1944 and as a novice in 1945, when she was given the name 'Stephen.' She made her first profession of vows in 1947, and professed perpetual vows on August 3, 1953. Sr. Stephen returned to her baptismal name, 'Therese Marie,' after Vatican II.
Sr. Stephen (Therese Marie) Kubicki spent a few years teaching in the primary grades at schools in Pittsburgh, Erie and Farrell, PA. Her first ministry in 1947 was as a second-grade teacher at Immaculate Heart of Mary School in the Polish Hill neighborhood of Pittsburgh. But for most of her ministerial life, she served God and others as a practical nurse, earning her LPN (licensed practical nurse) certification in 1970. From IHM School, she transferred to Mercy Hospital in Altoona, PA, in 1948.
In 1954, she moved to Hollidaysburg, PA, to minister at St. Leonard's Home, a CSFN ministry for the frail elderly. Then came several years teaching youngsters in the primary grades before Sr. Therese Marie returned to Mercy Hospital in 1962 as a practical nurse and sacristan. From 1966-68, she served at Holy Family Manor, then enrolled in and completed the Pittsburgh Public Schools Program for practical nurses in cooperation with the Pennsylvania State Licensing Bureau. Her clinical experience was at Allegheny General Hospital in Pittsburgh. From 1969-76, Sr. Therese Marie once again served at Holy Family Manor.
From 1976-82, Sr. Therese was on staff as a licensed practical nurse at Ohio Valley General Hospital, Pittsburgh, then served seven years as an LPN at the Fr. Walter Memorial Child Care Center in Montgomery, AL. In 1989, Sr. Therese returned to Altoona, serving a brief stint at Mercy Hospital before returning to Holy Family Manor in Pittsburgh, where she served from 1990-99 as an LPN, a medical clerk, sister companion and receptionist. In 1999, She remained in residence at the Manor, serving as a volunteer in the Family Hospice and Palliative Care unit located on the first floor. Eventually she herself retired to the Manor.
Honoring her in April 2007, the Family Hospice team noted that she had a gentle countenance and spirit, offering her presence to patients and their families. Patients and families found solace when she prayed with them; through her presence, they felt that they were not alone. She would come late at night if the need arose to be with a dying patient. In her later years of illness, her inner spirit continued to manifest itself in her smiling countenance. Family and friends were regular visitors, taking her out for lunch or a ride in the country. Many of them, including those from Erie, PA, were able to attend her Mass of the Resurrection celebrated on Aug. 27, 2015.