To share messages of remembrance about a recently deceased sister please visit our Message of Remembrance page.
To make a donation in memory of one of our sisters, click HERE.
Are you looking for a Sister who served in your school, hospital, parish or other ministry?
Please complete our Find A Sister form.
Sr. Anita Pasternak (1923-2015)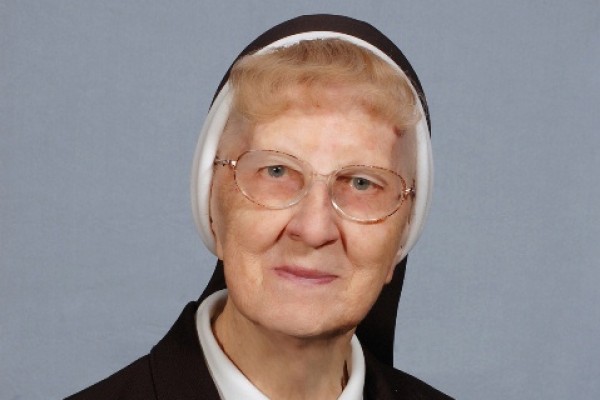 Nov. 12, 1923—Aug. 31, 2015
A native of New Haven, CT, and the only girl in a family in a family with seven children, young Antoinette Victoria Pasternak enjoyed being spoiled by her six brothers.
By the time she was in first grade, the Pasternak family had moved to Jamaica, Long Island, NY. Her father was a carpenter and her mother a seamstress; still, the family felt the impact of the Great Depression.
Antoinette was taught by the Sisters of the Holy Family of Nazareth at St. Joseph School in Jamaica. She enjoyed school, and respected and loved her teachers. Soon she began to ask God if she had the qualities to live a consecrated life. She continue to pray over this question and asked her teachers many questions. She wanted to attend Nazareth Academy High School in Philadelphia to continue her vocation discernment. She discussed the subject with her parents, who gave her their blessings. In June 1938, Antoinette left Jamaica for Philadelphia.
She enjoyed a smooth transition to life as a student at Nazareth Academy. Her education was a mix of learning, extracurricular activities, rules and regulations, friendships, liturgical celebrations, class and school celebrations and other events. Family was their mission and God was the center of the school. She had opportunities to nurture her talents and discover new ones. She was fun-loving and made others happy. Her musical talents brought happiness to her and to the lives of others. Antoinette became a postulant before starting her senior year. She was pleased to discover that she shared a birthday with Frances Siedliska, Bl. Mary of Jesus the Good Shepherd, foundress of the CSFNs. Antoinette received the name 'Anita' in 1942 when she became a CSFN novice.
Sr. Anita's first assignment was at St. Mary's Villa for Children and Families in Ambler, PA, where she taught in the grade school and served as organist. She organized a children's band and sparked their interest in playing for enjoyment and entertainment. Three years later, she was at Little Flower Children & Family Services of New York on Long Island. Again, she taught school and was the 'leader of the band.' In 1956, she returned to St. Mary's. Eventually, she taught at St. John Cantius and St. Hedwig schools, both in Philadelphia.
Her next move was to southwest Philly, where she spent 21 years as the local superior/teacher or teacher/principal or superior/principal or principal at St. Mary of Czestochowa Parish School. From there, it was onto Nazareth Academy Grade School, where she served as assistant principal and ministered until her retirement in 2013. She remained active after her move to Mount Nazareth until Aug. 25 this year, when she fell and broke her hip. She had been improving following surgery when, on Aug. 31, she told a nurse and one of the sisters that she didn't feel well. Soon, she was at home with the Lord