To share messages of remembrance about a recently deceased sister please visit our Message of Remembrance page.
To make a donation in memory of one of our sisters, click HERE.
Are you looking for a Sister who served in your school, hospital, parish or other ministry?
Please complete our Find A Sister form.
Sr. Eugenia Morkowska (1910-2015)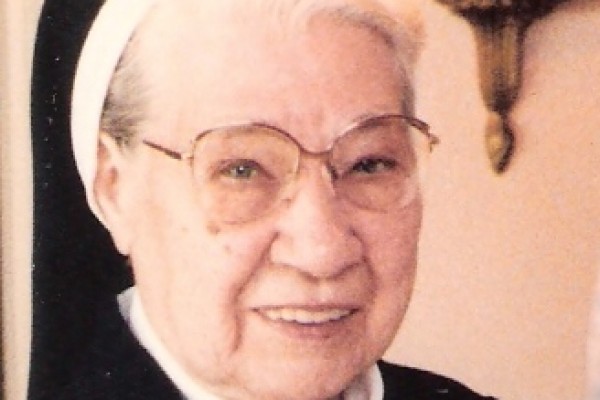 July 21, 1910 - Oct. 1, 2015
A native Chicagoan, Sr. Eugenia Morkowska spent the last 54 years of her religious life in Texas, moving to Irving, TX, in 1961 to teach 8th grade at St. Luke School.
For the July celebration of her 105th birthday, Texas sisters shared some of their memories:
From Rome where she was participating in the General Chapter, Sr. Malgorzata Majszczyk wrote, "When I came to Texas in 1992, Sr. Eugenia was one of the Sisters who greeted me with a big smile and all along, helped me to become Texan. . . . Sister always had a big smile and a kind word and never missed the opportunity to teach me something new."
From Sr. Barbara Frances Samp: "I first met [Sr. Eugenia] . . . when she came to St. Luke Parish in Irving, TX. She was the 8th-grade teacher and her name then was Sr. Potentia. Over the following years, we were stationed together three more times: St. Andrew School in Fort Worth, Holy Family School in Irving, and now here at Good Shepherd Convent in Grand Prairie. During Sister's school ministry . . . , she always presented herself as a refined lady. Both students and parents respected her for her honesty and caring manner. Among her sisters, she was always looked upon as being kind and lovable."
Two other Texas sisters had even earlier memories of Sr. Eugenia. She taught Srs. Beata Czyl and Consilia Mackiewicz in 2nd grade at St. Suzanna School in Harvey, IL.
Sr. Eugenia was one of 13 children — seven boys and six girls. One of the boys became a priest, and three of the girls joined the CSFNs, receiving religious names Dolores, Denis and Potentia. After Vatican II, Sister returned to her baptismal name, 'Eugenia.' Soon after her profession of vows, she began teaching in schools in Chicago; Harvey, IL; South Bend, IN, and in Phoenix, IL. She also served as the director of aspirants at the Provincialate in Des Plaines, IL, before moving to "God's Country' - aka, Texas. There, she made the complete circuit of schools staffed by the CSFNs. Her many assignments included a term as convent superior and principal at St. Thomas Aquinas School in Dallas.
From 1983—92, she served as convent superior and assistant school librarian at Holy Family School in Irving. From there, she transferred — after 64 years as an educator — to Jesus the Good Shepherd Convent in Grand Prairie, TX. There she stayed busy doing craftwork for the former gift shop and working with the newly arrived Sisters from Poland on their English.
Sr. Eugenia loved Scripture and wrote in her journal: "reading the Bible seems to me is what really experiencing Jesus means." She lived the Bible, according to her fellow sisters, and was gentle, helpful, kind, peaceful, loving and above all, prayerful.
She loved baseball, and one season attended almost all the home games courtesy of a friend who provided her ticket. She was vibrant and enjoyed a good laugh. After Sunday Mass in Grand Prairie, she would greet members of the congregation as they left the chapel, making many friends among them.
As her health declined, she moved to the infirmary in 1998 and was blessed with the assistance of a nurse's aide who looked on Sr. Eugenia as her 'grandmother,' treating her with much love and affection, as did the sisters across Texas.