To share messages of remembrance about a recently deceased sister please visit our Message of Remembrance page.
To make a donation in memory of one of our sisters, click HERE.
Are you looking for a Sister who served in your school, hospital, parish or other ministry?
Please complete our Find A Sister form.
Sr. Rose McCormack (1938-2015)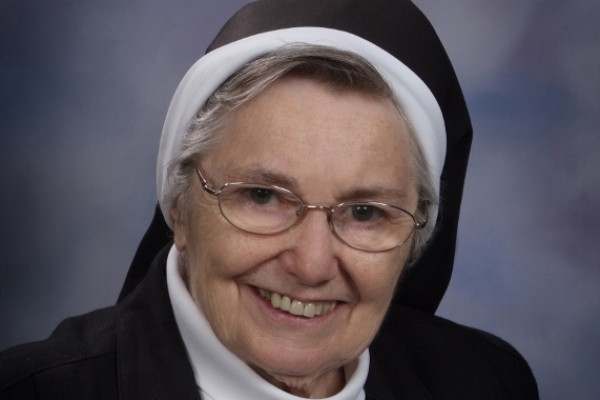 April 22, 1938 – Nov. 17, 2015
Fondly known as "our Rose from Ireland," Rose was the first girl born to James and Kathleen McCormack in Castle Pollard, County West Meath, Ireland – about 60 miles northwest of Dublin. One of 10 children, she attended Ballycomoyle National School, completing her courses in June 1952. She also studied at a technical school in her home area, completing that program in November 1953.
The oldest girl, Rose helped her mother with household chores and care of the younger children. When her mother, a midwife, was out with her patients, Rose was responsible for the house and children.
In 1957, at age 19, Rose McCormack and Mary, one of her sisters, came to the U.S., initially staying with an aunt. Rose worked for the New York Telephone Co. while considering her vocation. She literally knocked on the doors of several convents before her parish priest suggested she visit the Sisters of the Holy Family of Nazareth in South Brooklyn. When a sister opened the door and welcomed her, Rose knew this was her place. She told the sister, "I want to be a sister" and her dream came true. Rose was accepted as a postulant on Jan. 1, 1962, in the then Immaculate Conception Province in Torresdale, PA. In August that year, she received the name 'Sr. Mary Augustine' upon her entry into the novitiate. She professed her perpetual vows in a relatively new province – Immaculate Heart of Mary Province in Monroe, CT, in August 1969.
Sr. Augustine completed her studies at Nazareth Academy in 1964. Years on the family farm in Ireland, caring for her siblings, prepared her for her early ministry. From 1964-66, she was a dormitory mother at St. Christopher Home in Sea Cliff, NY, then transferred to Little Flower House of Providence in Wading River, NY, again serving as a dorm mother. In 1967, she was transferred to Christ the King Convent, where she did domestic work, and the next year she moved to the Provincialate in Monroe, where she served as a cook until 1976. That year, she was moved to Our Lady of Victory Convent in Worcester, MA, to cook and do domestic work. Three years later, by now using her baptismal name, Sr. M. Rose was back in Brooklyn, doing domestic work for the sisters at Patronage BVM convent in the Greenpoint section of the borough. Her final transfer came in 1981, when she returned to Monroe and cooked full-time until 2005, when she downshifted into part-time work. When she was no longer able to continue, she left her beloved kitchen to spend several hours a week bringing the warmth she had shared at the back door of the convent to the front door where she was a receptionist.
It seems everyone knew Sr. Rose. Her smile and infectious laugh drew people into her warm kitchen and the warmth of her heart. Her ministry, at the back door of the kitchen, touched delivery people, workers, volunteers, associates and her Sisters. A cup of steaming coffee for a truck driver, a gently inquiry to follow up on a conversation held weeks earlier – such gestures, all genuine, made people feel that they were important and that Sr. Rose cared about them. When the bread supply was low, she prayed, and a woman who had a bakery came by to see if the sisters needed bread. She is still bringing the sisters bread and pastries.
Homemade breads seemed to be a major thread running through Sr. Rose's ministry. Every year before Christmas, Easter and the Province Lawn Festival, Sr. Rose was up at 3 am, getting her kitchen ready to bake 'babki' or Portuguese bread or white bread. With her team of volunteers, they baked about 100 loaves a day. But as regulars at the Lawn Festival can attest, no matter the quantity supplied, Sr. Rose's loaves were gone by 1 pm. People drove to Monroe from Utica, NY, to be sure they'd be in time for the bread.
Sr. Rose got to know people so well, she became a primary in-person recruiter for the Association of the Holy Family and remained a steady presence at meetings of the Monroe Associates as long as her health permitted. .
Her family and her friends' families were important to her. Sr. Rose lived the CSFN message: Family, the Heart of Our Mission. She stayed in touch with her large extended family, usually by phone. A few years ago, she enjoyed a large family celebration of her 75th birthday. Her CSFN family also was important. In her days as chief cook, she was known to stay late in the kitchen to make sure a sister coming home late from her ministry wouldn't go to her room hungry.
Prayer was key to Sr. Rose's life and joy. Her litany of intentions reflected world events and our Sisters in mission countries, such as the Philippines and Ghana. Sr. Rose was known for always remembering a friend's or a visitor's special intention.
Sr. Rose worked hard, prayed hard and loved deeply – and the people who traveled great distances to pay their respects gave witness to the fact that this simple woman from Ireland was a shining star in a multitude of groups.