To share messages of remembrance about a recently deceased sister please visit our Message of Remembrance page.
To make a donation in memory of one of our sisters, click HERE.
Are you looking for a Sister who served in your school, hospital, parish or other ministry?
Please complete our Find A Sister form.
Sr. Bernardine Stachowicz  (1918-2015)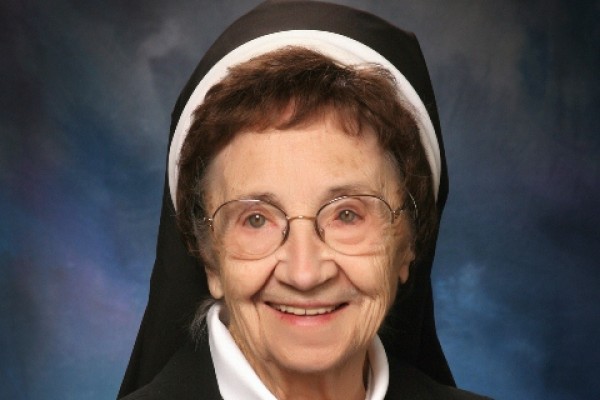 Oct. 7, 1918 - Dec. 5, 2015
Long-time nurse, nursing educator and administrator of senior residences, Sr. M. Bernardine Stachowicz died just three days before Pope Francis announced a Year of Divine Mercy on Dec. 8. Those who knew here well say that Sr. Bernardine spent her life making God's merciful love visible in her attitudes and her daily living.
The young Regina Stachowicz first encountered the Sisters of the Holy Family of Nazareth at St. Stanislaus Parish School in Cleveland, OH. They inspired her to enroll at Mount Nazareth Academy in Pittsburgh; she was received into the community in 1940 and professed her final vows in Rome in 1949.
Earlier, she studied nursing at Ohio Valley General Hospital School of Nursing in McKees Rocks, PA, graduating in 1946 and passing state tests for her R.N.
She ministered as a nurse at Ohio Valley general from 1946-47, in 1957, and again in 1961-62 as a nurse supervisor. She earned a B.S. in nursing education from Duquesne University, Pittsburgh, and a master's in education from Auburn University in Alabama. In 1970 she was named a Fellow in the American College of Nursing Home Administrators.
Her ministries included service in hospitals, nursing homes, senior housing facilities and day care centers, as well as at parish schools in Pittsburgh, Philadelphia, Detroit and Adena-Dillonvale, OH, as well as Montgomery, AL. Her nursing ministry took her to Nazareth Hospital, Philadelphia, and to Mercy Hospital, Altoona, PA, where was director of nursing from 1954-57. In this role, she also supervised the school of nursing.
From 1962-80, Sr. Bernardine served at the Resurrection Center and Fr. Walter Day Care in Montgomery, AL, then a new facility for mentally and physically disabled children from birth to age 18. Touched by the lack of pre-school education for the younger children, Sr. Bernardine set up an early education program and began teaching the younger residents.
In 1980, Sr. Bernardine returned to Pittsburgh to become the administrator and local superior of Holy Family Manor. She also co-managed mushrooming senior high-rise apartments from 1981-1992. Her remaining years of ministry were spent in a variety CSFN agencies in Pittsburgh, such as administrator of the Hohn Paul II apartments and co-manager of Alexis Manor and Beachview Manor. During 1987, Sr. Bernardine was the director of Holy Family Learning Center in Lakewood, OH>
Next up, Sr. Bernardine moved into technology, serving as the computer manager at Transfiguration Parish in Detroit from 1993—2005; continuing in that role when the parish merged with Our Lady Help of Christians and closing our her active ministerial life as a volunteer at the merged parish.
In August 2014, she returned to Holy Family Manor, this time as a resident. Her new ministry? Full-time prayer, calling on God's mercy for all.