To share messages of remembrance about a recently deceased sister please visit our Message of Remembrance page.
To make a donation in memory of one of our sisters, click HERE.
Are you looking for a Sister who served in your school, hospital, parish or other ministry?
Please complete our Find A Sister form.
Sr. Leoncia Kowalewska (1921-2015)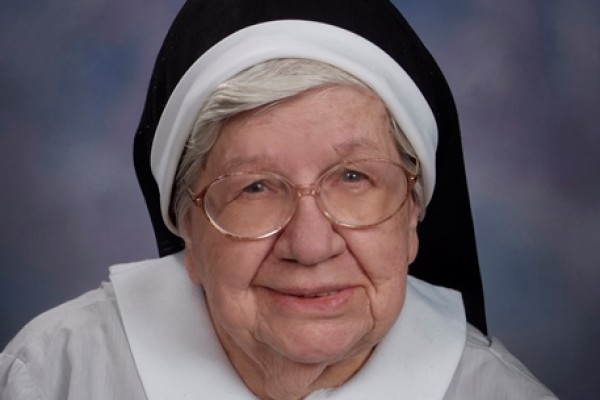 July 14, 1921 – Dec. 27, 2015
A native of Philadelphia, the former Genevieve Kowalewska was the third of seven children born to Alexander and Mary (Krawczynska) Kowalewski. She first encountered the Sisters of the Holy Family of Nazareth (CSFNs) at St. Mary of Czestochowa Elementary School in Philadelphia. Three months after graduation, she joined the community in Philadelphia and was received into the novitiate in 1938. She took her name – Leoncia – in honor of her parish priest who helped her join the CSFNs.
Sr. Leoncia, affectionately known as Sr. Lee, professed her first vows on Dec. 27, 1940 – exactly 75 years before the Lord called her home. She made her final profession in 1946.
Sr. Leoncia's first assignment was to work in the nursery at the new Nazareth Hospital in Philadelphia, where she cared for infants for 18 years. In 1958, she was transferred to St. Christopher Home in Sea Cliff, NY, where she also cared for infants. In 1964, she moved to Little Flower Children's Services in Wading River, NY, and after a year, returned to St. Christopher for four more years, before moving back to Little Flower. In both places, Sr. Leoncia served as dorm mother to the young children; at Little Flower, she cared for the youngest boys in Angels Cottage for many years. Her final service to Little Flower was to receive, sort and distribute donations to the children at Little Flower and in foster care. She retired to Immaculate Heart of Mary Convent, Monroe, CT, in 2002.
Sisters in Monroe recall how Sr. Lee took great delight in sharing stories about 'her preemies' at Nazareth Hospital and her young boys at Little Flower. One of her favorite stories was telling how motorcycle riders loaded down with presents for the children would rev their bikes to make as much noise as possible as the rod down the road in Wading River. It has been rumored that Sr. Lee enjoyed a spin on one of those bikes!
The Monroe sisters noted that Sr. Lee's children at Little Flower knew they were loved and they return that love to her. They also were obedient and respected her as a 'mama' and were happy to help with chores in their cottage.
A social person, Sr. Lee regularly left her door open to welcome visitors who stopped by for a visit, be it short or long. She enjoyed watching sports and loved watching movies. She looked forward to Tuesday afternoons when some sisters and associates gathered for a rousing afternoon of Yahtzee.
Sr. Lee was faithful to her prayer life. She loved the Rosary and in later years often simply held her beads in her hands. Her faith was deep and when a grand-nephew was being ordained in Rome, she was delighted to share that news with the sisters in her home.
Sr. Lee participated in the early conversations when sisters in Monroe where sharing their dreams for their new convent. Her keen interest in the new house was rewarded when she was part of the group that moved in the weekend of Dec. 18. She was delighted to be in the new chapel when Bridgeport Bishop Frank J. Caggione consecrated the altar and chapel on Sunday, Dec. 20. She had a wonderful time that first week in the new IHM Convent; "it was a joy to hear her laughter and chatter in the dining room . . and she enjoyed Christmas and the Manger in (our) new place of worship," the sisters reported. "It was as though a spurt of God's energy flowed through her being." She died peacefully on Dec. 27, the Feast of the Holy Family and the diamond anniversary of her first profession.