To share messages of remembrance about a recently deceased sister please visit our Message of Remembrance page.
To make a donation in memory of one of our sisters, click HERE.
Are you looking for a Sister who served in your school, hospital, parish or other ministry?
Please complete our Find A Sister form.
Sr. Loretta Wesolowski (1924-2016)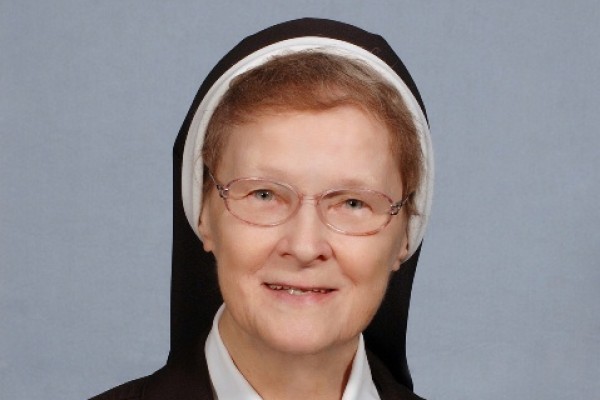 Dec. 19, 1924 – Jan. 7, 2016
After spending a lifetime ministering in healthcare, education and development support of CSFN friends, Sr. M. Loretta Wesolowski has died, less than three weeks after marking her 91st birthday. The third of four children, Dorothy Wesolowski was destined to become one of four family members who joined the Sisters of the Holy Family of Nazareth.
Young Dorothy entered Nazareth Academy in Philadelphia where her older sister, Adele (now Sr. Regis) was a student. This also would enable her to discern her vocation, she reasoned. After graduation, she became a CSFN postulant, and in 1942, she entered the novitiate, becoming Sr. M. Loretta. She professed her perpetual vows in 1950.
One of the threads that ran through Sr. Loretta's long life was her desire to minister to and support families. The love from her own family gave her an early appreciation of the charism and mission of the CSFNs. This inspired Sr. Loretta's young niece, one of the twin daughters of her younger sister, Theresa, to follow in the footsteps of Sr. Loretta and Sr. Regis. Now there were four Wesolowski family vocations to CSFN: Srs. Loretta and Regis; their niece, Sr. Maria Annette Mallen, and their maternal aunt, Sister M. Celine Bednarska. During her almost 75 years as a CSFN, Sr. Loretta was a joyful witness and a faithful steward of her vocation.
Sr. Loretta's family also had ties to Nazareth Hospital in Philadelphia: at one point, her father was the dietary manager; her brother, Dr. Louis Wesolowski, interned there, and Sr. Loretta worked as a medical technologist and later was a supervisor in the chemistry department. After professing temporary vows in 1944, Sr. Loretta began her health care ministry at Nazareth Hospital where she continued for almost 50 years, until 1993. Between assignments, she took time to earn various degrees and serve at two other CSFN ministries – as a nurse's aide at St. Christopher's Home for Children in Sea Cliff, NY, and as a staff technologist at Bethania Hospital in Wichita Falls, TX.
After studying at Holy Family Teacher Training School in Philadelphia and the Catholic University of America in Washington, DC, Sr. Loretta trained in medical technology at St. Louise University in Missouri and at Long Island University in Brooklyn, NY. She put her clinical chemistry experience to good use as co-director of the Chemistry Department at Nazareth Hospital from 1966 – 77. Subsequently, she earned a second degree in Laboratory Administration from St. John University in New York City, and then served as assistant chief technologist in the chemistry department at Nazareth Hospital.
In addition to her work at the hospital, Sr. Loretta served related apostolic ministries, serving as an adjunct professor in biochemistry at Holy Family University (HFU) and a part-time chemistry teacher at Nazareth Academy High School.
She built time for diversion into her busy schedule – she and her frequent companion, Sr. Joachim, rode the bike trails in Pennypack Park on a tandem bicycle. Anyone frequenting the park during their rides no doubt heard them singing A Bicycle Built for Two.
After retiring from the hospital in 1993, Sr. Loretta began ministering in the Philadelphia Development Office, interacting with both staff members and CSFN donors. She developed a personal and systematic 'thank you' program,' sending notes to all donors, whatever the size of their gifts. She built up relationships with acquaintances who began steadfast friends of the CSFNs. Her letter-writing strengthened those friendships and spiritually enriched the lives of these faithful members of the extended Nazareth family.
Sr. Loretta also served as local superior for the sisters at St. Michael the Archangel Convent, Delaney Hall, at HFU, and continued to assist at the University. In 2012, in her third term as local superior, she became ill. Her need for extensive recuperation required her move to Mount Nazareth that year. There she helped out in a variety of ways, including the mailings for the Association of the Holy Family of Nazareth. Most days, she walked the grounds, and most years, she still enjoyed trips to the Pocono Mountains and the Jersey shore.
In June 2015, with her health failing, Sr. Loretta was placed in hospice care at the Mount, surrounded by family, sisters and staff at the infirmary.