To share messages of remembrance about a recently deceased sister please visit our Message of Remembrance page.
To make a donation in memory of one of our sisters, click HERE.
Are you looking for a Sister who served in your school, hospital, parish or other ministry?
Please complete our Find A Sister form.
Sr. Gloria Czarniewicz (1927-2016)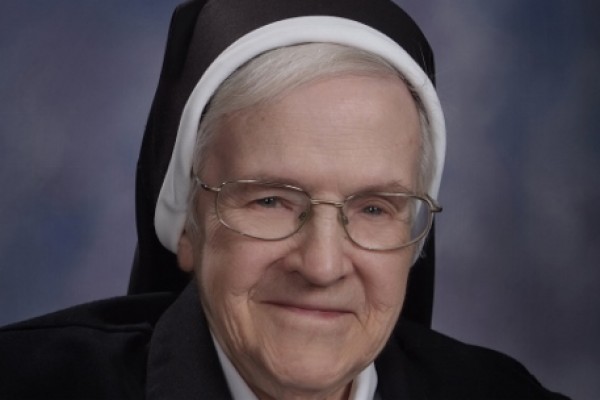 Sept. 27, 1927 – Aug. 20, 2016
Sr. M. Gloria (Victoria) Czarniewicz, a long-time educator who served in elementary and high schools throughout Connecticut, Massachusetts, New Jersey, New York and Pennsylvania and a dedicated friend to many, left us peacefully on August 20, 2016.
The third child of Polish immigrants, Victoria was born on September 27, 1927 to Stella (Czerwinska) and John Czarniewicz in the Greenpoint section of Brooklyn, NY. She began working as a bookkeeper in 1945 after attending St. Stanislaus School and graduating from Girls High School, both also in Brooklyn. When she decided to enter religious life in 1950, Victoria announced to her employer she was leaving for the convent in two weeks. According to Sr. Gloria, in the stories she later told, her boss exclaimed, "I'll give you a raise." Though a dedicated and hard-working bookkeeper, her employer's offer did not deter Victoria from her call to religious life.
Victoria received her postulant veil on December 28, 1950 in the Immaculate Conception Province in Torresdale, PA and entered the novitiate on August 18, 1951. She professed her final vows on August 13, 1959.
Before beginning her teaching career, Sr. Gloria assisted with payroll and accounts payable at Nazareth Hospital in Philadelphia.
Sr. Gloria received a Bachelor of Science degree from Holy Family College (now Holy Family University) in Philadelphia and a Master of Science in Business Education from Catholic University in Washington, D.C. After 47 years inspiring her students both inside and outside of the classroom, Sr. Gloria retired from teaching in 1997.
In retirement, Sr. Gloria worked in the finance department at Little Flower Children's Services in Wading River, NY. In 2005, she moved to Immaculate Heart of Mary Convent in Monroe, CT where she had the opportunity to serve as the convent's part-time receptionist.
Sr. Gloria's 65 years of religious life also included time as local superior in Sea Cliff, NY and three years as treasurer of the Immaculate Heart of Mary Province, Monore, CT. In 1992, she was secretary for the Congregation's 19th General Chapter in Rome.
An avid collector of Charles Schultz's Snoopy, Sr. Gloria's room was filled with these iconic black and white beagles. Those who knew her best also remember her for the delicious potato pancakes and Linzer tarts she made.
Though confined to a wheelchair in her later years, Sr. Gloria's humor and wit shined as she delighted in visits from friends, played games with Sisters and associates and enjoyed word search books and jigsaw puzzles, devoting as much enthusiasm to completing a jigsaw puzzle as she did to inspiring her students.
Sr. Gloria once said, "My religious life was strengthened by my increasing trust in the Lord and supported and influenced by my devotion to the Holy Spirit and the Blessed Virgin Mary. My devotion to our Mother Foundress, Blessed Mary of Jesus the Good Shepherd developed and became more intense as the years passed by. In His will is our peace."