To share messages of remembrance about a recently deceased sister please visit our Message of Remembrance page.
To make a donation in memory of one of our sisters, click HERE.
Are you looking for a Sister who served in your school, hospital, parish or other ministry?
Please complete our Find A Sister form.
Sr. Paula Rzentkowski (1921-2016)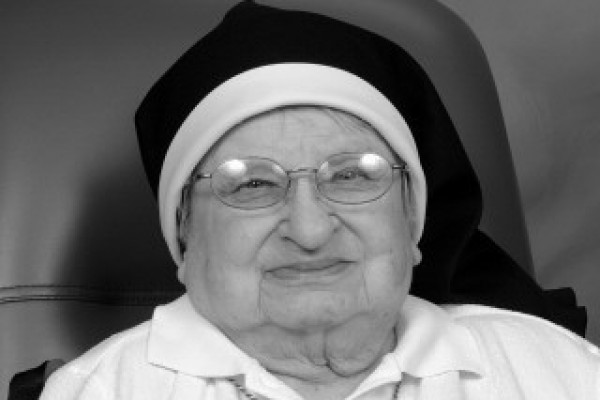 March 17, 1921 – August 14, 2016
Sister Paula Rzentkowski, a nurse for over four decades who served in Chicago's St. Mary of Nazareth Hospital; Holy Family Hospital in Des Plaines, Illinois; St. Joseph's Hospital in Clayton, New Mexico; and, Holy Family Manor in Pittsburgh quietly passed away on August 14, 2016, exactly 70 years after her final profession of vows.
Sr. Paula, born Mary (Marie) Loretta Rzentkowski on March 27, 1921 to Polish immigrants Boleslaus Rzentkowski and Victoria Januszewska, grew up in the Avondale neighborhood of Chicago. She attended St. Hyacinth School and Holy Family Academy, both in Chicago.
Known for her peaceful smile and positive support of friends and family, Marie entered the Sisters of the Holy Family of Nazareth on September 12, 1945 as a postulant. After her professed temporary vows on June 27, 1948, Sr. Paula began training as a nurse at St. Mary's of Nazareth Hospital. In 1964, Sr. Paula received a Bachelor of Science degree in nursing from DePaul University, Chicago.
Sr. Paula also served as Nurse and Health Director for the Sisters in the Sacred Heart Province in Des Plaines for nine years.
In February 1989, while crossing the road near the Holy Family Convent in Des Plaines, Sr. Paula was struck by a car, resulting in injuries that limited her nursing ministry but did not deter her compassionate soul from serving others. In 1993, she became a resident of Nazarethville, a personal care facility in Des Plaines. As a resident, she continued to be of service by volunteering as Nazarethville's receptionist, eventually receiving a 1000+ hour volunteer lapel pin. In an interview for the Nazarethville News, Sr. Paula said she spent her leisure time, "Praying, reading, talking with residents and helping wherever I can."
Despite the physical trails after the accident, Sr. Paula remained an example of love in action. Her many nieces and nephews recall her loving support as she listened and encouraged them through their challenges.
Sr. Paula's funeral Mass was held Wednesday, August 17, 2016 at the Sisters of the Holy Family of Nazareth Provincialate, Des Plaines. Interment was at All Saint's Cemetery adjacent to the Provincialate.