To share messages of remembrance about a recently deceased sister please visit our Message of Remembrance page.
To make a donation in memory of one of our sisters, click HERE.
Are you looking for a Sister who served in your school, hospital, parish or other ministry?
Please complete our Find A Sister form.
Sr. Maria Przyborowska (1923 - 2016)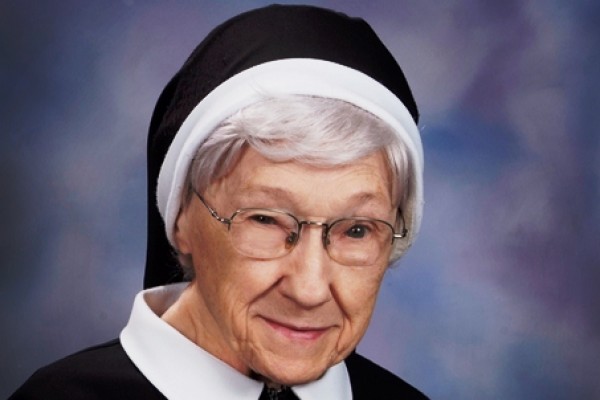 April 5, 1923 – Sept. 19, 2016
As a child, Mary Przyborowska watched the Sisters of the Holy Family of Nazareth with curiosity from her aunt and uncle's backyard in Brooklyn. The Sisters' backyard was adjacent to her family's yard. "I needed to be seen by an eye specialist [in New York] once a week for a year," Sr. Maria recalled in an interview for her Diamond (75th) Jubilee, "so I lived with my aunt and uncle in Brooklyn for the summer so I could receive the treatments." Mary's parents lived in New Jersey at the time. That summer, young Mary heard the Sisters laughing and talking, their joy lighting up the summer evenings.
"I was attracted to their life," said Sr. Maria.
On June 9, 1940, Mary followed that joyful call and entered the Sisters of the Holy Family of Nazareth. She professed her perpetual vows on August 15, 1949.
Mary was born on April 5, 1923 in Brooklyn, New York. The first child of Anthony and Josephine (Nartowicz) Przyborowski, she attended Our Lady of Czestochowa Elementary School in Brooklyn and Nazareth Academy in Philadelphia, graduating on June 8, 1941. She earned her teaching certificate from Holy Family Teacher Training in Philadelphia on August 12, 1941 and her Bachelor of Science degree in Elementary Education from Villanova University on August 8, 1959.
For forty-three years, Sr. Maria taught in elementary schools in New York, Massachusetts, New Jersey and Pennsylvania including St. Adalbert School in Elmhurst, NY (1972 – 86) and St. Stanislaus Kostka School in Brooklyn (1986 – 2002). She also spent several years caring for babies and young children at Little Flower Children's Services in Wading River, NY (1961- 64) and St. Christopher Home in Sea Cliff, NY (1964 – 65).
Like the Sisters she so carefully observed as a child, Sr. Maria's joy-filled life inspired many people. Despite challenges from over a decade of kidney failure and dialysis, Sr. Maria touched the lives of the medical staff, the other patients and their families with her spirit of acceptance. Prayerful, humble and self-sacrificing, she is remembered for her simple and gracious demeanor. She is also remembered for her love of movies, especially old Westerns.
"She was real," said those who were closest to her. "She taught us to have fun, to live."
In 2015, as she celebrated her Diamond Jubilee, Sr. Maria said, "I am happy, accepting whatever God gives me in life – I just learn to live with it and continue to live life to the fullest."
On September 12, 2016, Sr. Maria suffered a major stroke. After a visit from her brother, Prosper, her only surviving sibling, she passed away on September 19, 2016, surrounded by Sisters and staff.
Sr. Maria's Mass of Christian Burial was held Thursday, September 22 at the Immaculate Heart of Mary Convent in Monroe, CT. Interment was at Holy Family Cemetery, also in Monroe.