To share messages of remembrance about a recently deceased sister please visit our Message of Remembrance page.
To make a donation in memory of one of our sisters, click HERE.
Are you looking for a Sister who served in your school, hospital, parish or other ministry?
Please complete our Find A Sister form.
Sr. Adria Wijas (1921 - 2016)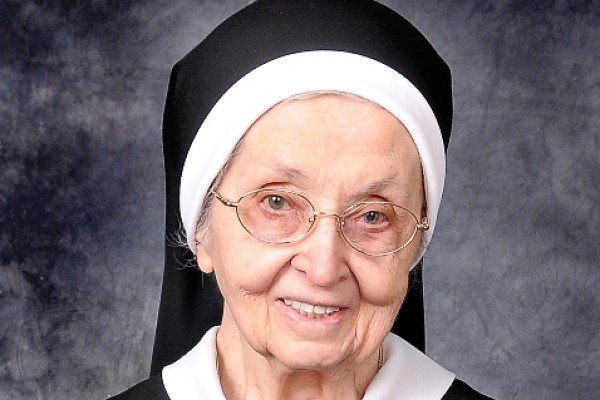 February 7, 1921 - October 5, 2016
On the eastern end of a one-block residential road in Stafford Heights, Queensland, Australia, a suburb of Brisbane, there is a street sign. The white sign with black letters reads "Adria St," named in honor of Sr. Adria Wijas.
Sr. Adria was the first principal of Our Lady Queen of Apostle School in Stafford. The street remains as a reminder of the service Sr. Adria provided to the parish and the school. In the early 1960's, Archbishop James Duhig of Brisbane contacted the Sisters of the Holy Family of Nazareth about the urgent need for sisters to help in the parish. Sr. Adria was among those who answered the call.
For thirteen years, Sr. Adria served in schools around Australia, including Our Lady Queen of Apostle.
Born on February 7, 1921 in Chicago to Ludwik Wijas and Aniela Pietruszewska, Eleanore Agnes Wijas was the eighth of ten children. When Eleanore was five years old, her oldest sister Irene (the late Sr. Patricia Wijas) entered the Sisters of the Holy Family of Nazareth. The event had a profound impact on Eleanore and inspired her to follow the same calling.
In eighth grade at St. Ladislaus School, Chicago, Eleanore told her teacher, Sr. Bonita, about her decision to enter religious life. The sister advised her to pray a Hail Mary each day so Our Lady would help her make the right choice. "I took it very seriously," said Sr. Adria. "I would always say the Hail Mary in that intention before I went to bed."
Eleanore attended Villa Nazareth High School in Des Plaines, IL and became a postulant in 1938. She graduated from the school in June 1939 and was received into the novitiate in July 1939. On August 16, 1947, Sr. Adria of the Hearts of Jesus and Mary professed her final vows.
Sr. Adria received a Bachelor of Philosophy degree in education from the DePaul University in Chicago and went on to teach for sixty years in various schools in Australia and the U.S. She served in St. Josaphat, Chicago; St. Susanna, Harvey, IL; St. Andrew School, Calumet City, IL; and, St. Ladislaus School, Chicago where she spent 14 years as a kindergarten teacher beginning in 1972. In 1986, Sr. Adria transferred to Texas, serving in Dallas and Irving schools.
Countless students were touched by her ministry, writing to her decades after they were in her classroom. "I remember a discussion we had about what we did when we woke up each morning…," wrote one student 40 years after she was in Sr. Adria's kindergarten class. "You told us the first thing you did [when waking up in the morning] was to think about God. Yes, I still remember the lesson. Hopefully, my daughter will come to know this lesson as well. I know when I follow it, my life is better."
Friends and sisters describe Sr. Adria as a smiling, gentle and kind-hearted individual who was grateful and thankful, always seeing the best in everyone. Despite increasing frailty and a slower pace, Sr. Adria maintained her joyful spirit.
On the morning of October 5, 2016, in the 78th year of her religious life, Sr. Adria passed away at Jesus of the Good Shepherd Convent in Grand Prairie, TX. Her funeral Mass was held Saturday, October 8 at the convent chapel. Interment was at the convent's cemetery.
To view a photo history of the Stafford Catholic Parish in Australia, including pictures of Sr. Adria and of Adria Street, named in her honor, click here.