To share messages of remembrance about a recently deceased sister please visit our Message of Remembrance page.
To make a donation in memory of one of our sisters, click HERE.
Are you looking for a Sister who served in your school, hospital, parish or other ministry?
Please complete our Find A Sister form.
Sr. Rita Marie Kocanda (1940 - 2016)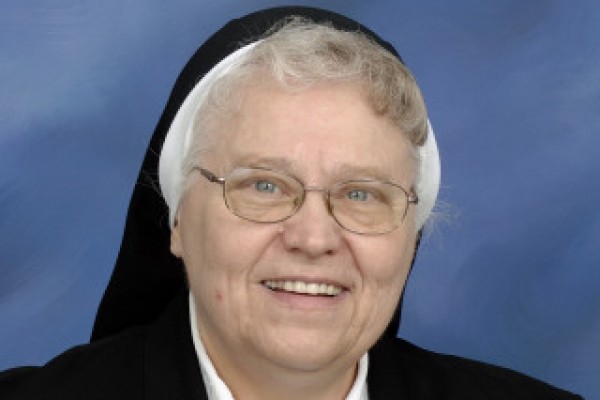 Nov. 6, 1940 - Nov. 5, 2016
On the day before her 76th birthday, in the 60th year of religious life, Sr. Rita Marie Kocanda peacefully took her last breath at Nazarethville in Des Plaines, IL, surrounded by her religious sisters and their prayers.
Born on November 6, 1940 in Rivesville, West Virginia, Rita was the thirteenth and youngest child of Polish immigrant parents, John and Mary (Saflarski) Kocanda. There were difficult times in her early life. Her father worked in the coal mines to provide for the family while her mother cared for the children. By the time Rita was old enough for school, her parents separated. Mrs. Kocanda moved to Chicago with the four youngest children to be closer to Rita's aunt. Many years later, her parents reconciled and her father returned to the Church, events that held very special meaning for Sr. Rita.
In Chicago, Mrs. Kocanda worked various jobs, including cleaning the rectory, so she could support the family and send her children to Catholic school at St. Adalbert's. Sr. Rita recalled her mother instilling in her a love of God as well as faithful devotional practices. Her mother taught her that life would always be filled with both good and bad experiences.
In eighth grade, Rita was accepted as an aspirant in the Sisters of the Holy Family of Nazareth. She became a postulant on May 1, 1956, professed her first vows on May 3, 1959 and final vows on August 10, 1965. In 1966, Sr. Rita graduated from De Lourdes College in Des Plaines, IL with a Bachelor of Science degree in education.
For nearly thirty years, Sr. Rita served as a teacher in Chicago area schools including St. Hedwig, St. Emily, Immaculate Heart of Mary, St. Hyacinth, Holy Trinity, St. Adalbert, St. Camillus, St. Josaphat, St. Patricia and St. Michael.
In the late 1980's, after providing care for her ailing mother and eldest brother, Sr. Rita "felt the call to be of assistance to the sick and dying."
For the next seventeen years, Sr. Rita served as chaplain at Holy Family Hospital in Des Plaines, IL. She also worked with seminarians from the University of St. Mary at the Lake in Mundelein, IL, assisting with their preparation for pastoral care ministry.
Due to memory issues, in 2009, Sr. Rita moved to Nazarethville where she continued her pastoral ministry as long as she was able.
"I find that there is always a chance to minister to others, whether it be in the hospital, the classroom or the convent…," Sr. Rita wrote during the years she was a chaplain. "The most important task of ministering is simply listening, sharing and praying together or for someone. This is not only the task of the minister, but also of every Christian."
Sr. Rita's funeral Mass was November 9 at the Provincialate in Des Plaines, IL. Interment was at All Saint's Cemetery, also in Des Plaines, on November 10.