To share messages of remembrance about a recently deceased sister please visit our Message of Remembrance page.
To make a donation in memory of one of our sisters, click HERE.
Are you looking for a Sister who served in your school, hospital, parish or other ministry?
Please complete our Find A Sister form.
Sr. Patrice Feher (1931 - 2016)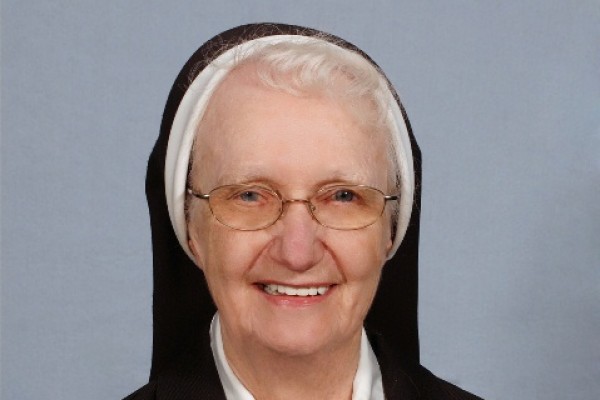 Feb. 7, 1931 - Nov. 30, 2016
For 47 years, Sr. Patrice Feher served the students of Holy Family University (HFU) in Philadelphia, first as a history professor and later as the Dean of Students and Vice President of Student Services. Yet, her ministry extended far beyond teaching and administration at the university. Sr. Patrice was a mentor and adviser to countless students through the years. Beloved by alumni, faculty, staff and students, Sr. Patrice was known for cheering on the university's athletes, organizing dinners for senior citizens and playing Scrabble in the residence halls. Those who attended the university through the years fondly recall her "Breakfast of Champions" before finals. Sr. Maureen McGarrity, CSFN, President of HFU, described her as "a cornerstone of the Holy Family University community for decades."
In 2009, a wing of the newly constructed Stevenson Lane Residence Hall at HFU was dedicated as the "Sister Patrice Feher, CSFN Wing." In 2010, the Association for Student Affairs at Catholic Colleges (ASACCU) honored Sr. Patrice with the Founders' Award for her exceptional contributions to ASACCU and Catholic higher education.
Born on February 7, 1931 in Williamstown, PA, Marion Feher was the third child of George and Mary (Adams) Feher. Along with her siblings Andy, George and Mickey, Marion attended Sacred Heart of Jesus Grade School and Williamstown Catholic High School, both in Williamstown, PA, graduating in 1948.
Despite her enduring fondness for the small town in which she spent her early formative years, career opportunities attracted her to Bristol, PA, a borough about 20 miles northeast of Philadelphia. While residing there with her immediate family, she began discernment of a vocation to religious life. After she explored several options, her prayer and reflection solidified her decision that serving families as a member of the congregation of the Sisters of the Holy Family of Nazareth (CSFN) was the way in which she could best answer the call of God to her heart.
On February 2, 1955, Marion began her formation journey with the CSFNs and professed her first vows on August 15, 1957. Sr. Patrice made her final vows on August 11, 1963.
Before becoming HFU's cornerstone, Sr. Patrice taught social studies in Pennsylvania and was a submistress of novices during their initial CSFN formation.
With a Bachelor of Arts degree from Holy Family College (now university) and a Master of Arts degree from Temple University, also in Philadelphia, Sr. Patrice began teaching history at her alma mater in 1969.
Friends, family, students and colleagues remember Sr. Patrice for her listening presence, tempered wisdom, willingness and desire to serve.
"I know that this loss will be felt deeply by all of us," Sr. Maureen said in her announcement of Sr. Patrice's death to the HFU community. "Let's keep her and our community close to our hearts and in our prayers."
Sr. Patrice passed away at St. John Neumann Nursing Home, Philadelphia, on November 30, 2016 in the 61st year of her religious life The Mass of Resurrection was held at Nazareth Academy High School chapel, Philadelphia on December 3.