To share messages of remembrance about a recently deceased sister please visit our Message of Remembrance page.
To make a donation in memory of one of our sisters, click HERE.
Are you looking for a Sister who served in your school, hospital, parish or other ministry?
Please complete our Find A Sister form.
Sr. Therese Frankowski (1937 - 2017)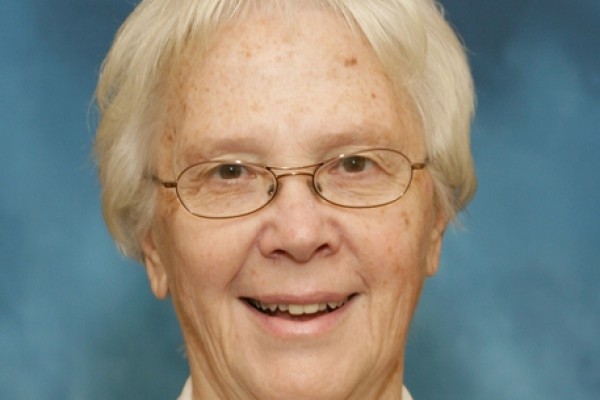 March 14, 1937 - Jan. 3, 2017
Bernadine Frankowski was born on March 14, 1937 to Casimir and Frances (Kowalska) Frankowski in the Polish Hill neighborhood of Pittsburgh. She was youngest of four and attended Immaculate Heart of Mary grade school where for nine years she was taught by the Sisters of the Holy Family of Nazareth.
She and many of her grade school friends pretended to be "sisters" and would talk about joining the convent together. By the sixth grade, this desire wore off for most of the girls, but not for Bernadine. Her teachers approached her about joining and becoming an aspirant at Mt. Nazareth Academy. Bernadine was uncertain and she believed she was restrained by the "providence of God" to go in another direction. She decided to attend Elizabeth Seton High School.
Bernadine, known by her nickname "Deany," described her high school years as the "four happiest years of my life, up to that time." Deany made life-long friends. She was a member of the swim team, had a boyfriend, worked at St. Francis Hospital and continued to explore religious life. She credits the Sisters of Charity with their "tender counsel and advice" for nurturing her vocation.
Once convinced she had a vocation to religious life, Bernadine's dilemma was which community she should join. She finally believed that she should enter the Sister of Charity until she met the Mistress of Novices, Sr. Frances Sikorska, of the Sisters of the Holy Family of Nazareth. Through Sr. Frances, Bernadine was convinced that Nazareth was where she belonged. In a letter of reference, Sister of Charity Caroline Joseph wrote, "... if Bernadine had not been called by God to join your order I would have been delighted to see her in ours."
On August 15, 1954, Bernadine received the veil of a postulant of the Sisters of the Holy Family of Nazareth. She became a novice on August 12, 1955 and made her first vows on June 10, 1957 in Albano, Italy. Sr. Therese professed her perpetual vows in 1963.
Sr. Therese began her ministry at St. Francis Cabrini Elementary School in Allen Park, MI. She also served at St. Joan of Arc School in Library, PA and as a counselor for high school girls at Holy Family Institute. As a math and science teacher at St. Christopher Elementary School in Detroit, MI, Sr. Therese inspired a vocation to religious life for Linda Yankoski, one of her students. In 1972, she became the postulant director for Linda.
At Duquesne University, Sr. Therese completed her Bachelor's degree in 1966 and Master's in Educational Counseling in 1971
Through the years, Sr. Therese also served in parish ministry and as a counselor. In 1992, she was elected to serve as a full time Provincial Counselor. With a desire to serve she took a part-time job at the St. Vincent de Paul thrift store in Pittsburgh. At the thrift store, Sr. Therese found her true calling – to help those who were poor and homeless.
When her position as provincial counselor ended in 1998 she went to work at Jubilee Kitchen in Pittsburgh as a social worker. Sr. Therese lived among those she served at a house on Locust Street with her companion dog, Sugar. In 2010, she moved into Mother Frances Convent and continued to serve at Jubilee Kitchen until she had her knee replacement surgery on August 16, 2016.
Through Sr. Therese many people experienced hope, the goodness of God, and the mercy of Jesus. Girls she counseled at Holy Family Institute, now mature women, visited her while she lived at Vincentian Home following her stroke on September 11, 2016. Sr. Therese continued to minister to her caregivers. She surprised the physical therapists by asking for the song, "Stressed Out," by Twenty-One Pilots with which to exercise, bringing smiles and laughter to the room.
Sr. Therese was a loving daughter, sister, sister-in-law, cousin, aunt and great-aunt. She loved nature and quiet prayer. She loved to care for plants and birds. She enjoyed hiking, camping, swimming and reading on the porch. She found the wisdom of God in the loving loyalty of Jesse, Rainbow, Sugar, Elle, and Lena – the dogs in her life. Sr. Therese lived her life for others, as a child care worker, teacher, principal, provincial counselor, family therapist and social worker.
This letter found on her casket exemplifies her impact:
"There are no words that can explain how the way I feel right now, the news of your passing has me so broken hearted, you were there when I was doing all the wrong things in life, and you never turned your back on me. You believed in me when I didn't believe in myself. You prayed for me every time you saw me. I've never met anyone who made me feel like I belonged somewhere, you are the reason that I have five years clean you always told me that god gave me a gift to sing and when you heard my son you were so excited and proud of me it made me want to continue to stay clean to make you proud of me. As I sit here writing this letter to you, tears are coming down my face, I'll always think of you, and remember your smile, I will cherish your memories for the rest of my life. Save me a place in Heaven for when my time comes." [printed as written]
Sixty-three years ago, Bernadine wrote in her autobiography, "Now that Jesus has brought me here where, at first, I was among strangers, I know He will not abandon me. Through His graces, I desire to live hidden with Him in His earthly home, Nazareth, and one day be united with Him in His heavenly home."
Sr. Therese died Jan. 3, 2017 at Vincentian Home, Pittsburgh, in the 62nd year of her religious life. A Mass of Resurrection was on Monday, January 9 at Holy Family Manor Chapel in Pittsburgh.