To share messages of remembrance about a recently deceased sister please visit our Message of Remembrance page.
To make a donation in memory of one of our sisters, click HERE.
Are you looking for a Sister who served in your school, hospital, parish or other ministry?
Please complete our Find A Sister form.
Sr. Mariella Omilanowicz (1913 - 2017)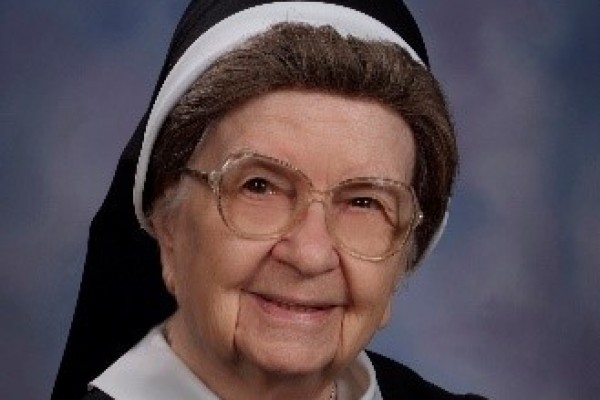 Feb. 23, 1913 - March 11, 2017
It was July 19, 1927 when Frances Omilanowicz and seven of her classmates from St. Mary Elementary School in Worcester, MA entered the Sisters of the Holy Family of Nazareth (CSFN). For the next 89 years, Sr. Mariella (Frances) Omilanowicz continued to share her gifts, talents, joy and warm smile as a CSFN.
Born February 23, 1913 in Worcester, MA, Frances was the third of six children born to Stanislaus and Agnes (Michalowski) Omilanowicz. She professed her temporary vows August 21, 1930 and her perpetual vows August 18, 1936. Sr. Mariella's biological sister, Sr. Gemma (Anne) Omilanowicz, also entered the Sisters of the Holy Family of Nazareth in 1927. Sr. Gemma passed away in March 1967.
Known as a kind teacher with a love for learning, Sr. Mariella taught elementary school for 38 years, beginning at St. Stanislaus School in New Haven, CT and serving at schools throughout Connecticut, New York and Pennsylvania.
She earned her B.A. from Manhattan College in New York in June 1949.
When Sr. Mariella left her beloved classroom due to medical issues, she volunteered in the gift shop at Nazareth Hospital in Philadelphia before transferring to Immaculate Heart of Mary Province in Monroe, CT in 1972. In Monroe, Sr. Mariella served as the convent's receptionist. She became a self-taught crafter, making beautiful creations that she gave as gifts. Her crafts were also sold at the province's "Lawn Festival" each year.
As a life-long learner, Sr. Mariella loved to find others who would join her in discussions about the new things she was learning. She also had an artistic side with a love for nature. Simple rides to the store with another sister became "a beautiful adventure," in Sr. Mariella's words.
Though she faced illness and suffering through her 104 years of life, Sr. Mariella became more beautiful with each passing year, according to one CSFN sister.
Sisters and Associates of the Holy Family visited Sr. Mariella often as her health dwindled, building strong relationships with her as they watched her favorite game shows together.
On March 11, 2017, two and a half weeks after her 104th birthday, Sr. Mariella died peacefully. Sr. Mariella would have celebrated her 90th year of religious life this year.
A Mass of Christian Burial was celebrated on March 17, 2017 at the Immaculate Heart of Mary Convent in Monroe, CT. Interment was at Holy Family Cemetery, Monroe.