To share messages of remembrance about a recently deceased sister please visit our Message of Remembrance page.
To make a donation in memory of one of our sisters, click HERE.
Are you looking for a Sister who served in your school, hospital, parish or other ministry?
Please complete our Find A Sister form.
Sr. Adrianne Szczesna (1936 - 2017)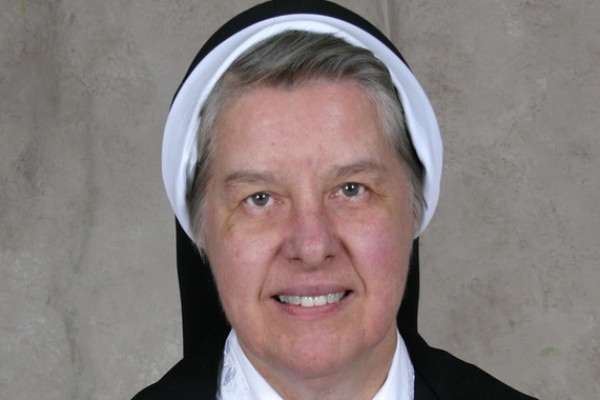 Jan. 9, 1936 - May 26, 2017
Adele Ann was born to Bronislaus and Casimira (Sikorski) Szczesny on January 9, 1936, the youngest of eight children.
Adele completed her elementary education at St. Joseph School, where she was introduced to the Sisters of the Holy Family of Nazareth (CSFN). As a student at Nazareth Academy High School in Philadelphia, Adele became a CSFN postulant on September 8, 1951. On August 16, 1952, she entered the novitiate and received the name Sr. Adrianne. She professed first vows on August 12, 1954 and final vows on August 11, 1960.
Sr. Adrianne earned her BA from Holy Family University, her MA from Fairfield University and her Certificate for Administration and Supervision from Fordham University. She taught at the elementary and high school level in Connecticut, Massachusetts and New York. She also served as principal in Southampton, NY and Ansonia, CT.
Her family remembers her as their playmate and babysitter, who taught some to "color within the lines," who loved to dance and always smiled. A woman of courage, strength, steadfastness, hope and tremendous faith, Sr. Adrianne is also remembered for her love of animals, her contagious laughter and her ability to imitate and mimic personalities and situations.
Sr. Adrianne retired from full-time ministry at St. Adalbert School in June 2008 and transitioned to part-time office work at the school.
In August 2014, unexpected health issues surfaced. From May 2016 through May 2017, Sr. Adrianne wore a neck brace 24/7 due to a neck injury caused by a fall, received chemotherapy, often felt sick and weak, attended frequent doctor visits, relied on the sisters and her aide for assistance which at times was very humbling. Through all of this, Sr. Adrianne never complained.
On May 26, 2017, after an extremely painful journey, Sr. Adrianne passed away surrounded by the sisters in her local community at Sts Peter and Paul Convent in Elmhurst, NY.
A Memorial Mass was held on May 31 at St. Adalbert Church in Elmhurt, NY. A Funeral Mass was held on June 1 at Immaculate Heart of Mary Convent in Monroe, CT. Interment was at Holy Family Cemetery, Monroe.